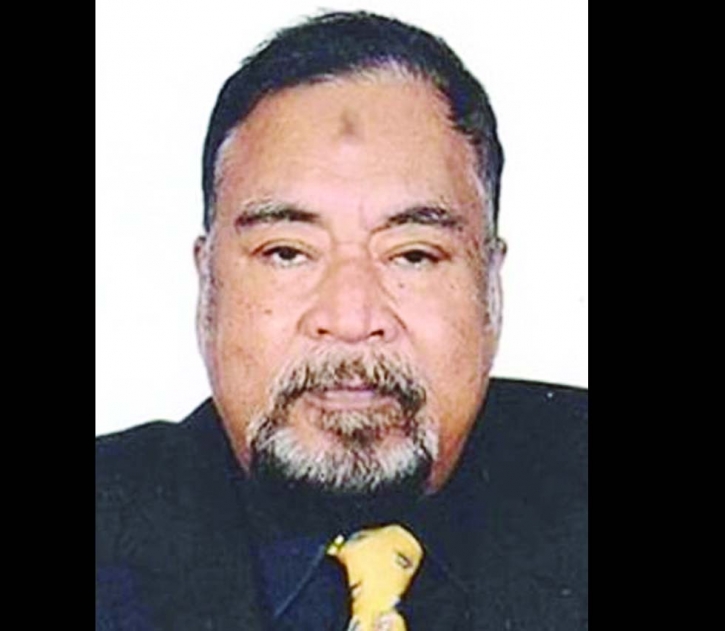 One of the organizers of the Liberation War and former member of parliament from Jhenaidah-2 constituency Nur-e-Alam Siddique died here early yesterday at the age of 82.
"The former lawmaker died at 4:37am while undergoing treatment at United Hospital in the city. His body will be taken to Jhenaidah by a helicopter at 10am," said Aniket Rajesh, secretary of Nur-e- Alam Siddique.
After his first Namaj-e-Janaza in Jhenaidah, another Namaj-e-Janaza will be held at Gulshan central mosque after Asr prayers. At this time, Nur-e-Alam Siddique will be given a "guard of honour," Aniket Rajesh said, adding, he will be buried in Savar, near the mosque, constructed by his fund.

Siddique, former Convener of the Chattra League Foundation, was also a genius student leader in his 70's, as he served as the president of the Bangladesh Chattra League during 1970-1972.
He played a vibrant role in all the political movements, including the Six-Point Movement and the Language Movement.
Siddique was also elected a parliament member as a candidate of the Bangladesh Awami League from Jashore -2 constituency after participating in the first national parliamentary elections held in 1973.
The Liberation War veteran also participated in the seventh and eighth national parliament elections as a candidate of the ruling Awami League, held successfully in 1996 and 2001.
Nur-e- Alam Siddique was born on 26 May, 1940 in Jhenaidah district.
President Md Abdul Hamid,Prime Minister Sheikh Hasina and cabinet members of the government yesterday expressed deep shock and sorrow at the death of Nur-e-Alam Siddique.
IN a message, Prime Minister Sheikh Hasina yestrerday expressed deep shock and sorrow at the death of Nur-e-Alam Siddique, one of the organisers of the War of Liberation, one of the leaders of all parties Chhatra Sangram Parishad and former president of Bangladesh Chhatra League.
In a condolence message, the Prime Minister reminiscing on the works of Nur-e-Alam Siddique, said that he played an important role in the anti-Ayub movement, the six-point movement and the 1970 elections, remaining steadfast to the ideals of Father of the Nation Bangabandhu Sheikh Mujibur Rahman.
She said that Nur-e-Alam Siddique, former Member of Parliament from Jhenidah-2 constituency, had served as one of the organisers of the War of Liberation.
"The contribution of this brave son of the nation to the establishment of independent Bangladesh will forever be remembered with reverence by the next generations," she added.
The Premier prayed for the eternal peace of the departed soul and expressed deep sympathy to the bereaved family.