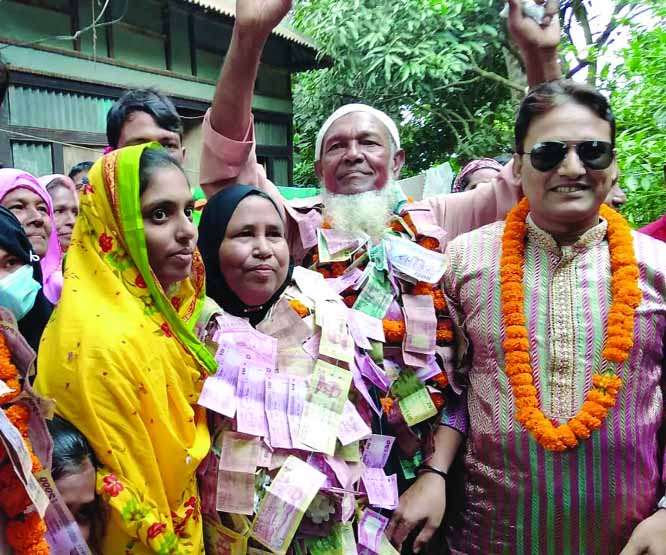 Cumilla Correspondent
In the second phase of the Union Parishad elections held in Cumilla Titas Upazila, the reserved women members were elected and the locals welcomed Masua Begum with a garland of around one lakh taka.
Newly elected reserved female members of wards 1, 2 and 3 of Narandia union of Masua Begum upazila. She has twice been elected as a female member of UP.
On Monday afternoon, when the victory procession left for Nayakandi, Dukhiarkandi, Sonakanda, Bati Bandh and Tairakandi areas of the ward, the villagers greeted him with money garlands and flower garlands.
There was about 1 lakh taka in Mala.
Thousands of voters and supporters including Md. Ruhul Amin Dalim Mollah, Monir Khan, SK Jahangir, Mokleshur Rahman and Rukku Mia were present in the victory procession.
Masua Begum, a newly elected female member of wards 1, 2 and 3, after receiving congratulations, flowers and money from everyone, said, "I thank God for electing me as a female member for the second time to serve the people." As well as gratitude and thanks to all the people in my ward who voted for me with love.
He also said that when the victory procession came out today, the locals gave me a garland of money. I am really fascinated by such love which will never be forgotten. I want to keep this love for the rest of my life, so I want blessings and cooperation from everyone.
Incidentally, the results of the 9 Union Parishad elections held on Thursday (November 11) night were announced. Masua Begum (Mike Pratik), a reserved female member of wards 1, 2 and 3 of Narandia Union, won by getting 1636 votes. His nearest rival Nazma (palm tree symbol) got 6 votes.