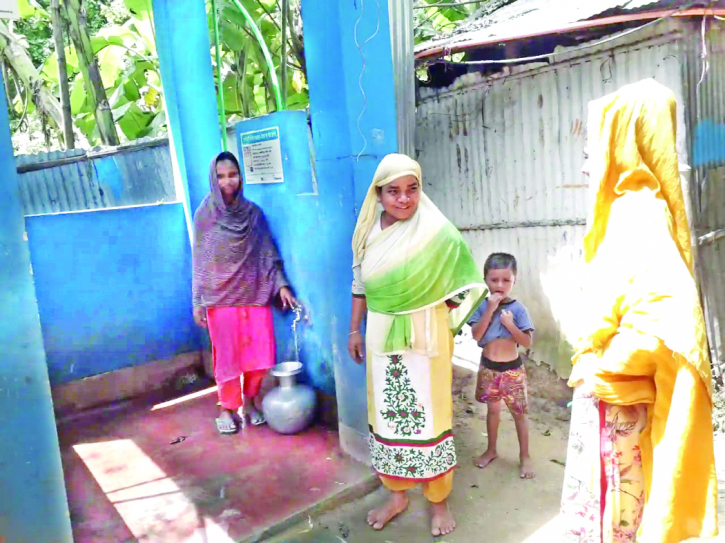 In Bangladesh, urban poor people, specially the slum dwellers, have long deprived of safe drinking water and hygienic sanitation. As a result they have to suffer from different water borne diseases.
In Chattogram city, there are more than a million people living in the slums who are also deprived of safe drinking water supply and hygienic sanitation. Most of them either have to collect water from street hydrants of Chattogram Water and Sewerage Authority (WASA) or buy water from private sources as they can not afford WASA connections or deep tube wells.
Dhustha Sashtha Kendra (DSK), a non government development organisation, came forwarded with a project to provide the slum dwellers with safe drinking water and hygienic sanitation in Chattogram.
Launching the project in 2019, DSK installed submergible pumps, constructed overhead tanks and setup water supply networks at 31 slums in Chattogram city. The organisation also constructed supply line with reservoir in 39 other slums. Besides, setup 16 urban water point and 11 water hydrants to provide with safe drinking water supply to more than 32000 slum dwellers.
Moreover, DSK constructed 39 two-chamber and 29 three-chamber community based hygienic toilets and renovated 20 other toilets in 30 slums to provide with satisfaction to 22000 dwellers of the slums.
Salma, a housewife living in a slum at Muktijoddha Colony under Bayezid police station area in the city, said that there had been an acute scarcity of water and hygienic toilets in the colony. "I had to walk more than a kilometre to collect water for five members of my family", she added.
"Maximum time I had to buy water due to lack of water supply in the street water hydrants of WASA", he said adding that DSK's project came as a blessings to more than 200 dwellers the slum she lives in.
"Now we get safe water whenever we want. Moreover, the modern toilets solved our problems of sanitation", she said with satisfaction.
Abdur Rahman, resident of the slum and president of management committee of the water supply and sanitation project, said that though the DSK established the project the committee had been responsible for management of the facilities.
"We formed a 30-member committee to look after the water supply system and toilets", he said adding that there is no crisis of water and sanitation in the colony now and people are living here a hygienic life.
Arafatul Zannat, project manager of DSK, said that the organisation has constructed the water supply and hygienic toilets in 30 slums of the city under 'Wash 4 urban poor' project funded by international development organisation Water Aid.
"More than 32000 slum dwellers are being provided with safe drinking water supply and 22000 slum dwellers are getting hygienic sanitation facilities under this projects", she added.
"We have not only constructed the establishments but also formed 'Community Based Organisations' in the slums and trained them up to manage the facilities", she said adding, " As they can manage the facilities after we phase out the project end of this year."
"Besides, we have constructed wash blocks in 12 schools and 7 public toilets in different parts of the city to minimize the hygienic sanitation problem in the city", she added.
The project brought light of hope in the slums. The slum dwellers of the city pleaded to extend the project in other slums of the city.