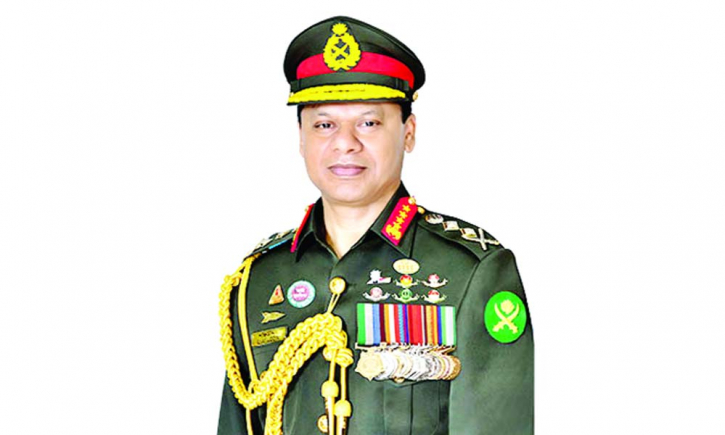 Chief of Army Staff General SM Shafiuddin Ahmed has said that they are observing the situation along the Myanmar border and working to ensure peace between the two countries.
"We're in contact with them (Myanmar). We're taking necessary care," the army chief said while addressing a seminar in the city on Wednesday. "We're ready to respond when it's needed." General Shafiuddin added that under the permission from the prime minister, he had contacted his counterpart and sent a strong message.
The Myanmar army chief said a separatist group was trying to create tension in the border area. "They said it's not being done by them."
He also highlighted the contributions of the army in ensuring global peace through UN peacekeeping missions. The seminar, titled "Role of Bangladesh in Global Peace", was also addressed by Parliament Speaker Shirin Sharmin Choudhury and Ambassador Shahidul Huq.
Earlier in the day, Home Minister Asaduzzaman Khan Kamal said, as a peace-loving country, Bangladesh would solve the border tension with Myanmar through bilateral talks.
"Our prime minister is not in the country. We are observing the situation. We consider this as their infernal affair," he said after a high-level meeting with representatives of the three armed forces and other law enforcement agencies at his ministry's conference room.
Kamal said the army and other forces were prepared for any situation. "We've liberated the country through a war. We don't count anyone...we always discourage a war," he told reporters.
Dhaka summoned the Myanmar envoy on Sunday, for the fourth time, and protested the incidents of gunshots and mortar shelling in the border areas of Naikhongchhari in Bandarban that left one Rohingya man dead and several others injured on Friday.
On Monday, the Ministry of Foreign Affairs of Myanmar summoned Bangladesh Ambassador Manjurul Karim Chowdhury to explain its stance regarding the recent gunfights and mortar shelling.
During the meeting, U Zaw Phyo Win, director-general of the Strategic Studies and Training Department under MoFA, put blame on the Arakan Army (AA) and the Arakan Rohingya Salvation Army (Arsa), adding that the Myanmar army had been trying to tackle their armed attacks.
The ministry said that the "terrorist groups" attacked Border Guard Police (BGP) outposts on September 16-17. During the period, at least 12 mortal shells landed inside Bangladesh territory.
Meanwhile, Foreign Minister AK Momen on Tuesday said Myanmar had admitted that the landing of mortar shells in Bangladesh territory was caused by mistake during its fight against insurgents along the porous border.