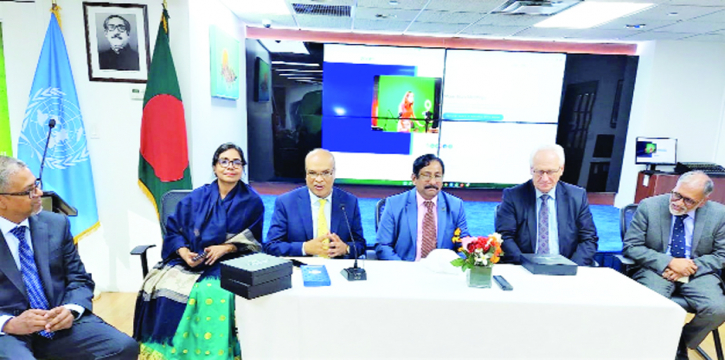 An international standard Bio-Bank in Bangladesh is critically important and Bangladesh has the capacity to host it which will open up new horizon of possibilities in medical research, said the world Bio-Banking leaders.
They were speaking at the scientific side-event titled -"Biobanking in low-middle income countries: Bangladesh -a case study for public health imperative" under UNGA-77 on Tuesday.
The largest teaching hospital in Bangladesh Bangabandhu Sheikh Mujib Medical University (BSMMU) organized this side-event focusing the critical need of developing bio-banks in Bangladesh.
The event took place at the Bangabandhu Auditorium at the Permanent Mission of Bangladesh to the United Nations where a large number of international audience including world leaders in Bio-Banking research participated.
It was a hybrid event; participants join both in person and virtually.
In addition to building an international standard biobank, speakers emphasized on the importance of building research capacity so that local researchers can use the Bio-Bank in an appropriate manner to enhance local research to translate into practice.
This initiative is an example as to know the academic scientific research in developing countries can be strengthened in accordance with the United Nations Sustainable Development Goals (SDGs) to ensure inclusive science at the global level, according to a media release.
According to medical scientists, various factors, including cellular and molecular heterogeneity within tumours, varying host immune responses, diet, environmental exposure, lifestyle, and patient demographics, influence the effectiveness of cancer drugs/biomarkers.
Thus, the one-size-fits-all approach is obsolete, and there is a need to design strategies to develop effective drugs/biomarkers by applying principles of individualized cancer care.
It is well known that racial disparities exist in drug/biomarker testing and clinical trial enrolment as most of the approved cancer drugs/biomarkers have been tested on Caucasian populations.
The lack of reliable/trustworthy biomaterial with clinical data is one of the major reasons why many Asian countries are underrepresented in biomarker studies.
So, for the development of translational research capacities in Bangladesh, developing a world class Bio-Bank is critical.
Representatives of BSMMU highlighted their ability to host such facilities and demonstrate how this facility will help accelerate local translational research.
Among the Bio-Bank specialists, Professor Kurt Zaffoukal from Medical University of Graz, Austria; Dr. Rita Lawlor from University of Verona, Italy; Dr. Zisis Kozlakidis from International Agency for Research on Cancer, France; and Dr. Nahla Afifi, Director of Qatar Biobank spoke at the event.
Among others, the Permanent Representative of Bangladesh to the UN Ambassador Muhammad Abdul Muhith and Professor Md. Sharfuddin Ahmed, Vice-Chancellor of BSMMU delivered speeches.
The Irish-Bangladeshi cancer researcher Dr. Arman Rahman alongwith Professor Laila Anjuman Banu and Professor Md. Sayedur Rahman of BSMMU worked closely in coordination the event.
The event was moderated by Dr. Arman Rahman.