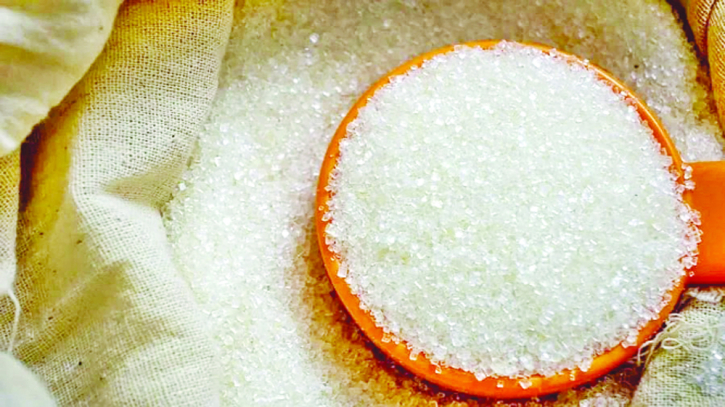 Sugar prices remained much higher than the government-approved rate, despite being fixed with the approval of private refiners.
Retail rates hovered at Tk115-120 per kilogram, despite the government fixing it at Tk102-108 per kg last week.
Visiting a few groceries in Mohammadpur and Rayerbazar , it was found that most of the groceries were still out of sugar forcing consumers to buy the item from distant kitchen markets.
However, the Directorate of National Consumers Right Protection last month identified seven reasons behind the price hike and shortage of sugar including gas crisis and complications in opening LCs with banks. The mill owners, dealers and wholesalers were also getting an opportunity to make unethical profits as they sold the item at more than the prices fixed by the government as the price was not mentioned in the sales' invoices, according to the DNCRP report.
The directorate also made an 11-point recommendation to make the market stable.
According to the directorate , there were 375,000 tonnes of sugar in stock and there was no shortage of raw sugar.
The directorate officials conducted 103 drives across the country and fined 278 traders Tk14.7 lakh in October.
The government fixed the maximum retail price of palm oil at Tk125 a litre but price increased to Tk155 a litre in the kitchen market, according to trading sources.
The Trading Corporation of Bangladesh data showed a 13% hike in palm oil price in a week.
Meanwhile, rice prices maintained the previous highs as coarse rice was selling at Tk55-56, medium at Tk62-65 and finer at Tk75-98 a kg during this peak Aman harvesting season.
Consumers Association of Bangladesh (CAB) vice president SM Nazer Hossain said the government couldn't take any logical action against wrongdoers, which encouraged them to make windfall profits battering consumers.
He urged the government to take strict action against the market manipulators to give people some sort of relief.