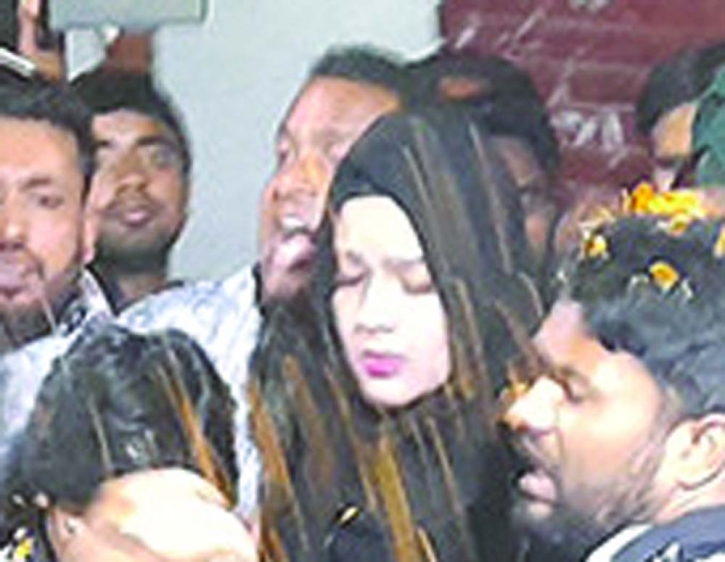 Dhallywood actor Mahiya Mahi walked out of jail on Saturday, just a few hours after being sent to jail in two cases.
She was released from at around 7:50pm on Saturday, after securing bail in both cases, Superintendent of Gazipur District Jail Anwarul Karim told Dhaka Tribune. Advocate Anwar Sadat, who stood for Mahi in the bail hearing, said the actor was returning to Bangladesh when she heard about the cases. "She came back as she respects the law, and went to the court to get bail."
"But she was arrested from the airport by the Detective Branch of GMP. Later, when she was brought to the Gazipur Metropolitan Magistrate Court-5 at around 1:30 pm, the judge of the court ordered that she be sent to jail immediately for security," he added.
The lawyer also noted that they had to tell the court that Mahiya Mahi is a renowned actor in Bangladesh and nine months pregnant during the hearing of the bail petition.
After coming out of the jail, Mahi's fans, who gathered around the jail greeted her with flowers.
The actor did not talk to anyone but raised her hands to show her love to the fans.
The actor had been in Saudia Arabia with her husband, Rakib Sarker, to perform Umrah. Rakib, who is the joint general secretary of the Awami League's Bason unit in Gazipur, did not return home with Mahi.
Earlier, two separate cases were filed against Mahiya Mahi and Rakib Sarker at Gazipur's Bason police station on charges of land grabbing and tarnishing the image of the police.
Rokon Miah, sub-inspector at Bason police station, filed one case on Friday night under the Digital Security Act (DSA), accusing the couple of impairing the law and order situation by spreading fabricated information with the intention of defamation.
GMP Commissioner Molla Nazrul Islam said Mahi had accused the GMP of taking "bribes" on Facebook.
Another case was filed by Ismail Hossain, a resident of the Dighirchala area, who accused the couple of land-grabbing.