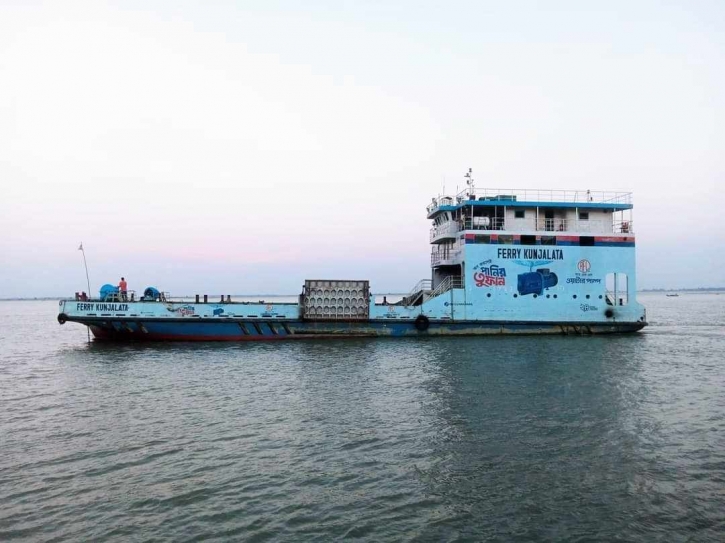 A new journey will be started with Ferry movement from Ramna ghat of Chilmari-Roumari route of communication development in Kurigram district after a long awaited.
Meanwhile, a ferry named"Kunjolata" has been arrived in Ramna ghat of Chilmari River port from Aricha ghat at night on Friday. Earlier all preparation have been made of connecting road and poltroon. The people of this region become very happy hearing the news of arrival of ferry here.
The ferry will starts its movement from Chilmari River port to Roumari route from the upcoming September 20, Deputy Director of Bangladesh Inland Water Transport Authority (BIWTA) Mahfuz Alam Sajal said.
It is learnt that The Brahmaputra River is the sorrow of among the people of Roumari and Rajibpur upazila in the district. Some lakhs of people in this route have to depend on boat for communication. Risk in boat movement increases in the rainy season as various natural calamities including storm, hail storm, cyclone and others.
On the other hand, boat movement hampered during the dry season causing the sufferings of the passengers know no bound. Collection of excessive fare and collapsing of schedules are included daily. The sufferings of the passengers will be mitigated after starting of ferry movement and are going to be materialized the dream of long awaited of public demand. Some people will also get job opportunities here. Although ferry movement will go in the rainy season but it may be hampered in the dry season, locals opined.
Deputy Director of Bangladesh Inland Water Transport Authority (BIWTA) Mahfuz Alam Sajal said state Minister for Shipping Khalid Mahmud Choudhury and State Minister for Primary and Mass Education Zakir Hossain will inaugurate the ferry movement here on upcoming September 20. Another Ferry will be included here after inauguration and two ferries will move in the River port regularly. In addition, two dredgers will be kept at Chilmari and Roumari ghat to mitigate the navigability.