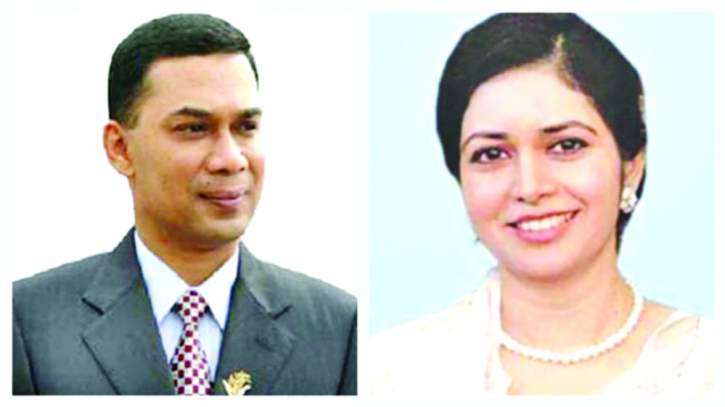 The Dhaka Metropolitan Senior Special Judge's Court on Tuesday accepted the charges against opposition Bangladesh Nationalist Party acting chairman Tarique Rahman and his wife Zubaida Rahman in a graft case filed by the Anti-Corruption Commission in 2007.
Judge Md Asaduzzaman of the court passed the order after scrutinising the case documents.
The court also asked the police to submit the report on the execution of the arrest warrants against the duo by 25. On June 25, the High Court declared acting BNP acting chairman Tarique and his wife Zubaida fugitives from justice and asked the relevant lower court to complete the trial of the couple in the 2007 case as early as possible. The Anti-Corruption Commission filed the case with the Kafrul police station on September 27, 2007, alleging that Tarique had submitted a false statement to the commission concealing information about his movable and immovable property worth Tk 4.23 crore.
The commission also alleged that Tarique had acquired Tk 4.82 crore beyond his known sources of income.
Of the Tk 4.82 crore, the commission said, Zubaida and her mother Iqbal Mand Banu jointly owned illegal Tk 35 lakh in the form of fixed deposits. The bench of Justice Md Nazrul Islam Talukder and Justice Kazi Md Ejarul Haque Akondo ordered the resumption of the trial after rejecting three separate writ petitions filed by the couple in 2007 and 2008, challenging the legality of the proceedings of the case.
The High Court on October 1, 2007, after hearing Tarique's two writ petitions, stayed the proceedings against him and asked the government and the commission to explain the legality of the proceedings.
After hearing Zubaida's petition, the High Court on November 12, 2007 stayed the proceedings also against her in the case.
On June 25, the court rejected all three writ petitions with observation that the petitions were not acceptable as the couple were fugitives from justice and no fugitives could challenge any proceedings or engage any lawyers to defend them.
Tarique, along with his family, has been living in London since he was forced into exile in September 2008 by the then military-backed caretaker government.