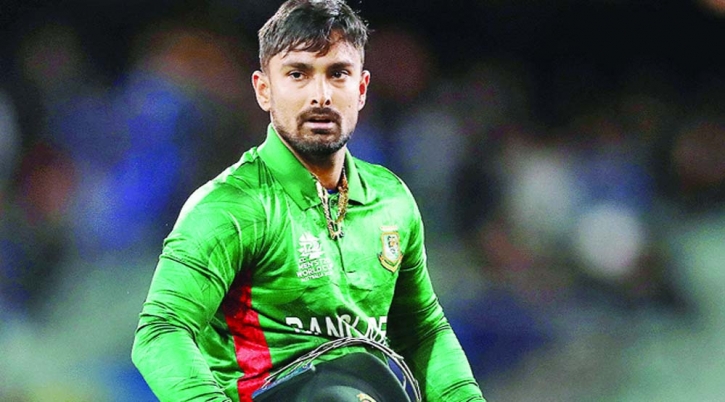 Bangladesh are playing excellent cricket, and it's not possible to get better than this, said Bangladesh batsman Liton Das after they thrashed Ireland by 77 runs in D/L method in the second Twenty20 international to seal the three-match series 2-0 in Chattogram on Wednesday.
Liton stole the show after the Tigers were sent to bat first, as he hit a blistering 83 off 41 balls, his career-best knock in T20 internationals, to power Bangladesh to 202-3 in 17 overs.
On his way to fifty, Liton broke Mohammad Ashraful's 16-year-old record of a 20-ball fifty, as he hit it in 18 balls and became the holder of the fastest T20 half-century for the Tigers.
In the rain-curtailed match, the Irish were restricted to 125-9 in 17 overs during the chase, courtesy of Shakib Al Hasan's five-for and Taskin Ahmed's 3-27.
In that continuation, the wicketkeeper-batsman lauded the whole side and said the Tigers are doing excellent in all three departments, and it's not possible to play better cricket than this.
'As a group, we are playing really good cricket, be it batting, bowling, or fielding. I don't know if you can play better cricket than this. We will obviously try to keep up with this, and if we can keep it up, the results will come our way. But expecting better cricket than this is difficult,' Liton said in the post-match press conference.
The opening pair of Liton and Rony Talukdar hit 124 runs in the opening stand before Rony got dismissed for 44 off 23 balls, which is the highest in opening for Bangladesh in T20Is. In the previous match, this pair added 91 in the same stand.
Liton was happy with this change in the situation, as the Tigers were always facing troubles regarding the opening pair in T20Is.
'I think this is the highest opening partnership for us. Things can't get any bigger than this. You won't get this much success in every match either, or we won't just get to the wicket and start hitting every day. There will be struggles, but I am having fun batting with him [Rony],' Liton said.
Liton also wanted to go forward from this instead of thinking about the past.
'The change came with the change of opening partner. Why are you bringing up the past? Don't you like the fact that we are playing well now? No need to bring up the last 1 or 2 years. Let's see how well we can keep playing,' he added.
Although Liton was a bit disappointed to miss the century but was happy for the new record nevertheless.
'I felt like I was rushing too much. If I had taken more time to play the pacers instead of spinners, I guess it would have been 100 instead of 83. Yes, it feels good, but it would feel better if it was 100,' he concluded.