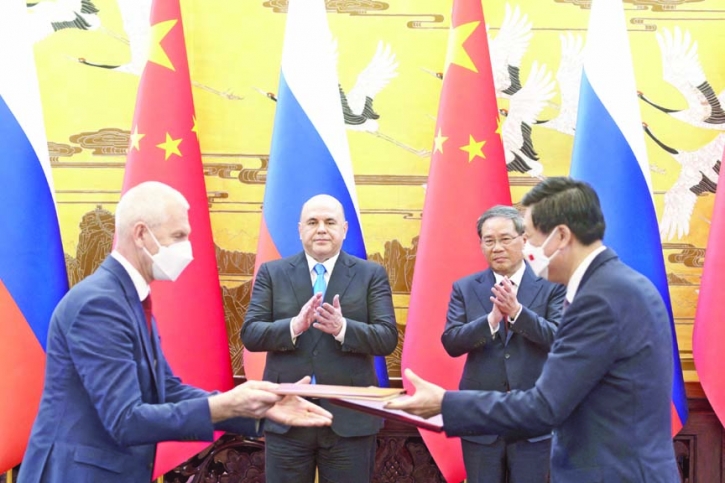 China and Russia have been doubling down on their "no limits partnership" in recent weeks, with high-level officials from both sides holding meetings in Beijing and Moscow to deepen ties in a number of areas. On Friday, China's special envoy for Eurasian affairs Li Hui arrived in Moscow, where he met Russian Foreign Minister Sergei Lavrov.
To begin, Lavrov blamed Ukraine and Western countries for what he called "serious obstacles" preventing peace talks between Moscow and Kyiv, while reaffirming Russia's commitment to "a political-diplomatic resolution of the conflict." Additionally, Lavrov praised Beijing for its "balanced" position on the ongoing war in Ukraine.
Li's meeting in Moscow follows his tour of Europe, where he met officials from several European countries. Following a meeting with Li in Brussels on Thursday, senior EU foreign policy official Enrique Mora said the European Union expected China to help push Russia to end the war in Ukraine by withdrawing its troops from Ukrainian territories. Similar messages were expressed by officials in Ukraine and Poland.
While China hoped Li's trip would quiet doubts about its credibility as a neutral party in the war, some analysts say European countries largely gave Li a cold reception. "When we look at the readouts presented by European countries, it's pretty obvious that Europe rejects China's 12-point position paper on the Ukraine war," said Justyna Szczudlik, a China analyst at the Polish Institute of International Affairs (PISM).
According to her, Ukraine, Poland, and the EU put gave China a well-coordinated message emphasizing that Russia is the aggressor and that the international community should support Ukraine based on the peace plan put forward by Ukrainian President Volodymyr Zelenskyy.
"From the Chinese point of view, Li's trip is a failure, because Europeans don't perceive him as a peace broker who could initiate something," she told DW.
Attempts to deepen security and economic ties During Li Hui's trip, which didn't seem to quiet doubts among European countries, Russia and China were trying to deepen security and economic ties amid growing pressure .
from democratic countries, particularly the US.
On May 24, Russian Prime Minister Mikhail Misusing, the highest-ranking Russian official to visit China since the Ukraine war started, signed a number of agreements with China to further strengthen cooperation in trade investment, facilitate the export of Russian agricultural products to China, and deepen sports exchanges.
During his meeting with Chinese Prime Minister Li Qiang, Misusing said relations between Moscow and Beijing were "at an unprecedentedly high level," as was highlighted by what he called mutual respect and the desire to jointly respond to challenges presented by the West. Li said China was willing to work with Russia to implement joint cooperation and bring pragmatic cooperation in various fields.
In addition to Misusing's trip to China, the head of Russia's security council, Nikolai Patrushev, held talks with China's top security official Chen Wending in Moscow. While the talks are held every year, experts think the timing of the talk and other bilateral exchanges has been triggered by the deterioration of relations between Russia and the US, as well as China and the US.
According to Alexander Korolev, an expert on China-Russia relations at the University of New South Wales (UNSW) in Australia, the outcome of the G7 summit in Hiroshima made China and Russia believe that they need to further double down on bilateral cooperation, as Western democracies try to form a united front against them.
In the communique released at the end of the summit in Hiroshima last weekend, leaders from the seven economies the US, Japan, the UK, Canada, France, Germany, and Italy pledged new steps to limit Russia's ability to finance the war in Ukraine while acknowledging the need to counter China's use of economic coercion against other countries.