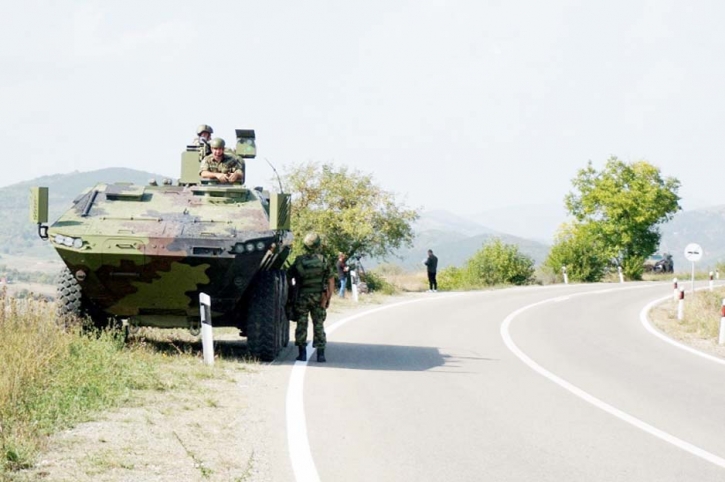 Serbia on Friday placed its army on high alert and ordered some units to move closer to the border with Kosovo after a small group of protesters and police clashed in a majority Serb town in northern Kosovo.
"An urgent movement (of troops) to the Kosovo border has been ordered," Defense Minister Milos Vucevic said in a live TV broadcast. "It is clear that the terror against the Serb community in Kosovo is happening."
Police used tear gas to disperse Serbs who gathered in front of municipal buildings in the Kosovan town of Zvecan, trying to prevent a newly elected ethnic Albanian mayor from entering his office, news agencies reported.
In various videos posted online, gunshots and shock bombs could be heard and several cars were set ablaze.
Around 10 people were slightly injured in the clashes, a hospital official Danica Radomirovic told local media.
Police said that five officers were injured by stun grenades and other hard objects thrown by protesters.
Tanjug news agency said several vehicles from the Nato peacekeeping mission to Kosovo arrived in the center of Zvecan.
Kosovo police did not comment on the incidents but only confirmed that officers were assisting newly elected mayors to reach their premises.
Media reports on Saturday suggested that the situation had calmed down.
Germany, US condemn violence
Britain, France, Italy, Germany and the United States have called on Kosovan authorities to de-escalate the situation.
"We condemn Kosovo's decision to force access to municipal buildings in northern Kosovo despite our call for restraint," the countries said in a joint statement posted on the British government's website.
"We call on Kosovo's authorities to immediately step back and de-escalate, and to closely coordinate with EULEX (the EU mission) and KFOR (Nato's mission in Kosovo." "We are concerned by Serbia's decision to raise the level of readiness of its Armed Forces at the border with Kosovo and call all parties for maximum restraint, avoiding inflammatory rhetoric."
Earlier, US Secretary of State Antony Blinken said Kosovo's actions went against US and European advice and "have sharply and unnecessarily escalated tensions, undermining our efforts to help normalize relations between Kosovo and Serbia and will have consequences for our bilateral relations with Kosovo."
He called on all sides to "refrain from any further actions that will inflame tensions and promote conflict."
Unrest follows controversial elections
Kosovo's snap election on April 23 was largely boycotted by ethnic Serbs, and only ethnic Albanian or other smaller minority representatives were elected to mayoral posts and assemblies.
Serbs in Kosovo's northern region do not accept Kosovo's 2008 declaration of independence from Serbia, which came almost a decade after the end of the Kosovo War. They still see Belgrade as their capital.
Ethnic Albanians form more than 90% of Kosovo's population, with some 50,000 Serbs only the majority in the northern region.
The Serbian army has been put on a heightened state of alert over tensions with Kosovo multiple times in recent years -— the last time in December after Serbs erected barricades to protest the arrest of an ex-policeman.
A US-EU-backed plan was verbally agreed to by the Kosovo and Serbian governments in March to defuse tensions by granting local Serbs more autonomy, with the government in Pristina retaining ultimate authority.
Pro-Vucic protest planned in Belgrade
The clashes in Kosovo overshadowed a planned pro-Serbian government protest on Friday, which saw tens of thousands of people converge on the Serbian capital, Belgrade.
President Aleksandar Vucic is facing an unprecedented revolt against his autocratic rule amid the crisis triggered by two mass shootings that stunned the nation.
Answering Vucic's call for what he called "the largest rally in the history of Serbia," his supporters, many wearing identical T-shirts with his portrait, were bused to Belgrade from all over the Balkan country as well as neighboring Kosovo and Bosnia.
The country's opposition blames Vucic for sowing division and hopelessness that they say indirectly led to the mass shootings on May 3 and 4.
Eighteen people died and 20 were wounded in the shootings — many of them schoolchildren who were gunned down by a schoolmate.
During the rally, Vucic is expected to announce that he is stepping down from the helm of his Serbian Progressive Party and forming "a movement" that will unite all "patriotic forces" in the country.
He could also call a new parliamentary election for September, which the opposition may try to block.