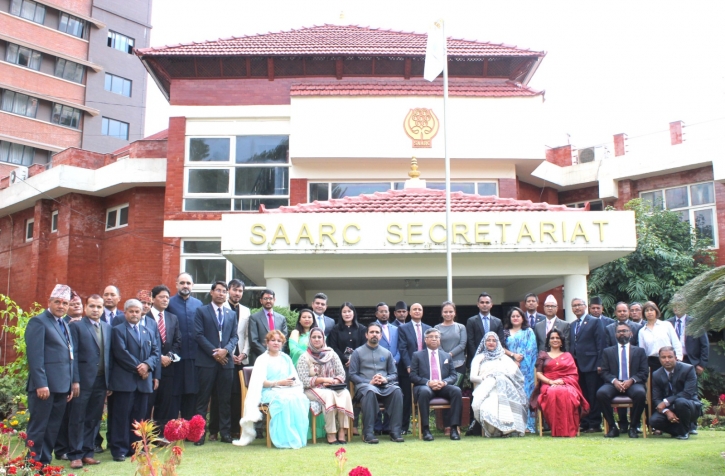 Ambassador Golam Sarwar from the People's Republic of Bangladesh assumed duties at the Secretariat as the Secretary General of the South Asian Association of Regional Cooperation (SAARC) on 25 October 2023, upon the approval of SAARC Council of Ministers. Ambassador Golam Sarwar is the Fifteenth Secretary General of SAARC and the third Secretary General from Bangladesh.
Addressing the Staff of the Secretariat at a welcome reception, Ambassador Sarwar conveyed his gratitude to the esteemed Member States for the opportunity given to him to serve the Association. He further emphasized the need to raise the profile of SAARC and highlighted the need to engage actively and effectively to serve the esteemed Member States to accomplish the entrusted important mandates to the Secretariat. In this regard, he sought continued support from the esteemed member states.
As a career diplomat Ambassador Sarwar belongs to the 10th batch of Bangladesh Foreign Service. Joining the Foreign Service in 1991, he has served extensively in different capacities both at home and abroad. Prior to this assignment, he served as Bangladesh Ambassador to Malaysia, Sultanate of Oman and Sweden, with concurrently accredited to Norway, Denmark, Finland and Iceland. He has also served as the Consul General of Bangladesh in Jeddah, Saudi Arabia. His illustrious diplomatic career also includes several important diplomatic assignments in Bangladesh Missions abroad such as Yangon, Kuala Lampur, Katmandu and Washington D.C. In his long diplomatic career, Ambassador Sarwar represent Bangladesh in numerous occasions in various Regional and International Forums.
His assignments in Dhaka also include several key appointments at the Ministry of Foreign Affairs such as Assistant Secretary, Director/ Deputy Chief of Protocol and Director General.
Born in July 1966, Ambassador Sarwar holds a Master of Commerce/Business Degree from the University of Dhaka. He had Advanced diplomatic training in
Germany. He married to Ms. Taslima and blessed with two sons.