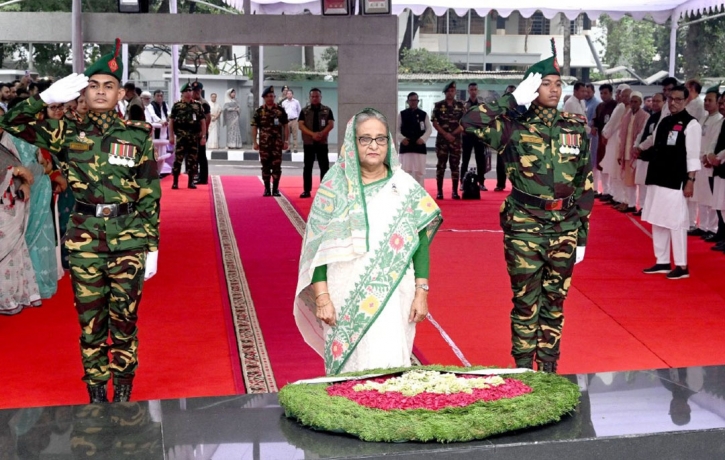 Prime Minister Sheikh Hasina on Monday paid tribute to Father of the Nation Bangabandhu Sheikh Mujibur Rahman on the occasion of the historic Mujibnagar Day.
She paid homage by placing a wreath at Bangabandhu's portrait in front of Bangabandhu Memorial Museum in Dhanmondi, Dhaka.
After laying the wreath, the prime minister stood in solemn silence for some time as a mark of profound respect to the memory of Bangabandhu, the architect of independence.
Flanked by central leaders of Awami League, Sheikh Hasina, also the president of the party, placed another wreath at the portrait of Bangabandhu on behalf of Awami League.
On this day in 1971, Bangladesh's first government in exile was formed at the Baidyanathtala mango orchard in Meherpur, under the then Kushtia district.
The place was later renamed Mujibnagar as a tribute to Bangabandhu who had been declared the president of the government-in-exile.
Syed Nazrul Islam was appointed the acting president in the absence of Bangabandhu. Tajuddin Ahmad was appointed the first prime minister, while Captain M Mansur Ali and AHM Quamaruzzaman were made cabinet members.
The successful leadership of the core cabinet steered the Liberation War to victory on December 16 that year.