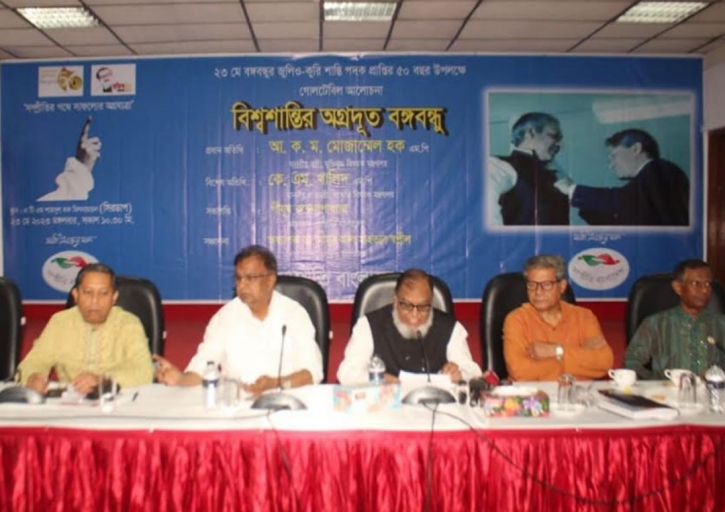 On the 50th anniversary of Father of the Nation Bangabandhu Sheikh Mujibur Rahman receiving the Julio-Curie Medal, Sampriti Bangladesh organized a round table discussion program at Sirdap Auditorium in the capital. In the discussion, the speakers said, Bangabandhu wanted to see a peaceful country, region and world, everyone should work for such a peace in the country and outside the country.
The main theme of Bangabandhu's foreign policy was 'friendship with all, enmity with none and peaceful resolution of all disputes', which has become a relevant and essential element in Bangladesh's foreign policy even today.
By killing him in 1975, seeds of unrest were sown in this country. Still a section within the country is always trying tirelessly to create unrest, which Bangabandhu's Prime Minister is preventing. Now he is also being threatened with death.
Minister of Liberation War AKM Mozammel Haque attended as chief guest where Minister of State for Culture KM Khalid was present as a special guest. Among others, retired Justice Shamsuddin Chowdhury Manik, former Vice Chancellor of National University Professor Harun-or-Rashid, Vice Chancellor of Barisal University Dr. Md. Sadekul Arefin Mateen, managing director and editor-in-chief of Bangladesh Sangbad Sangstha (BSS) Abul Kalam Azad, Professor Dr. Uttam Barua, Vice-Chancellor of Chandpur University of Science and Technology Nashim Akhtar, former vice-chancellor of Noakhali University of Science and Technology Prof. Ahiduzzaman Chan, president of Dhaka University Teachers' Association, Prof. Dr. Nizamul Haque Bhuiyan and Professor of Dhaka University Asim Kumar Sarkar. The program was conducted by the member secretary of Sampriti Bangladesh Prof. Dr. Mamun Al Mahtab Swapnil.