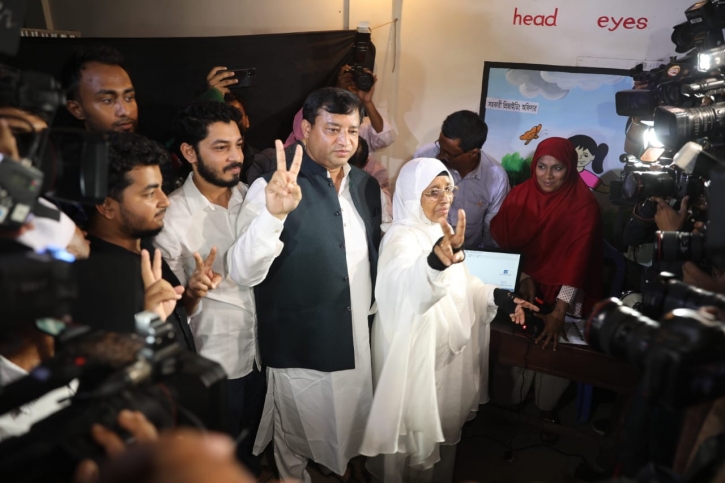 After a hard-fought battle with Awami League-nominated Azmat Ullah Khan, Zayeda Khatun, an independent candidate and mother of former mayor Jahangir Alam, has triumphed in the mayoral race of the Gazipur City Corporation in a competitive and peaceful election.
Zayeda Khatun bagged 238,934 while Azmat Ullah got 222,737 in Thursday's close-fought election, Returning Officer Faridul Islam announced at 1:30am on Friday.
After casting his own vote, Azmat Ullah seemed confident and told the reporters that he was optimistic about winning this election.
On the other hand, Zayeda Khatun said the election was conducted in a fair manner. Before the election, she sought deployment of troops during the election and wrote to foreign missions operating in Bangladesh seeking their assistance to hold a fair election.
The Election Commission and observers said the polls were conducted smoothly in a peaceful and festive manner, with a 48.75% voter turnout.
No incident of violence was reported from any centre of Gazipur.
The only allegation of a violation of the electoral code related to the illegal entry of two voters into the secret ballot room and their attempts to influence voting. They were detained by the police as per instructions of the EC.
While monitoring the GCC polls from Dhaka's Agargaon, the EC officials found that the two men were trying to influence voters. The magistrate concerned detained Abu Taher for three days for the offence.
Of the six other candidates, Islami Andolon Bangladesh's Gazi Ataur Rahman bagged 45,352 votes, independent candidate Sarker Shahnur Islam Rony got 23,265 votes, Gano Front's Atiqul Islam 16,974 votes, Jatiya Party's MM Niazuddin 16,362 votes, Zaker Party's Md Raju Ahmed 7,206 votes and independent candidate Md Harun-or-Rashid got 2,426 votes.
Opposition BNP did not field any candidates for the mayoral race and urged voters to boycott the election.