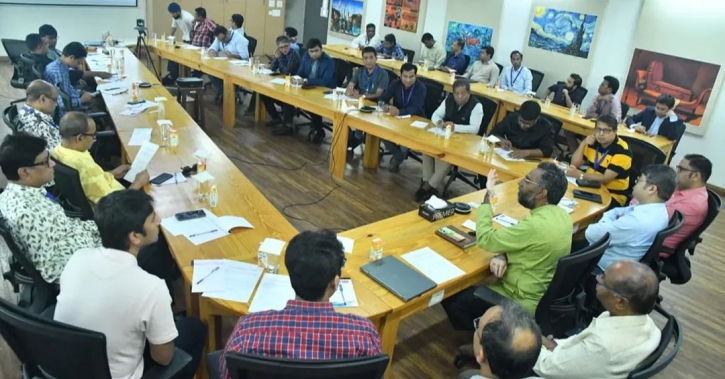 The Indian Institute of Technology, Hyderabad (IIT Hyderabad) has been providing scholarships to students from different countries of the world, including Bangladesh.
The institute is located in Kandi village in Sangaredi district of Telangana, India. Built on about 600 acres of land, the technology institute has emerged as a top choice for international students seeking higher education.
There are opportunities for education and research in various modern subjects including engineering, technology, architecture, arts, psychology, cybersecurity, artificial intelligence (AI), art and science at IIT Hyderabad.
A delegation of Bangladeshi journalists visited the institute in India on October 20.
IIT Hyderabad Director Prof. Budaraju Srinivasa Murty gave a detailed presentation on the higher education activities of the institute during a programme with the delegation of Bangladeshi journalists.
IIT-Hyderabad is currently ranked third among all the technology institutes in India, said professor Murty.
"Under the Fellowship for International Research Scholars in Technology (FIRST) Scheme, we are providing foreign students with the opportunity to pursue PhD with full financial support," he said, adding that it takes a minimum of 8 out of 10 CGPA to apply for students interested in studying at IIT Hyderabad.
As part of the fellowship, a student will get Rs60,000 per month and Rs1 lakh per year as research assistance. The fellowship will last for four years, said Prof. Murty.
Anyone with a master's degree with good results in any subject related to engineering or technology can apply for this fellowship, according to the IIT Hyderabad director.
"We are already in communication with Dhaka University on how the two institutions can work together," said Murty.
He called upon students from all universities to apply for IIT-Hyderabad.
"Scholarships are being given on the basis of merit," said Murty.
The IIT-Hyderabad director said that students of the institutions from around the world are getting the opportunity to study here through the Memorandum of Understanding (MoU) between IIT Hyderabad and universities of different countries.
"If any university in Bangladesh is interested in such facilities, we will help them in that regard. If necessary, we will increase more facilities for Bangladeshis," he said.
IIT Hyderabad has a joint doctoral degree programme with Swinburne University and Deakin University in Australia.
Due to various facilities, the number of PhD students in the institution is increasing.
In 2020, 230 people came to the institute to pursue PhDs, which rose to 370 the following year, according to Murty.
Professor Tarun Kanti Panda, Dean of International Relations Department of the institute, said, "We want to see more students from Bangladesh here. IIT Hyderabad will work with Bangladesh."
In response to another question, Professor Tarun said, "We do not have institutional contact with any university or institute in Bangladesh. If any institute from Bangladesh contacts us, we can definitely think about increasing cooperation."
Professor Tarun Kanti said IIT-Hyderabad can provide education to at least 25,000 to 30,000 students.
IIT Hyderabad offers ample opportunities for research along with higher education.
"Students here set up about 100 start-ups every year. Waris Ali, a student from Afghanistan, has developed a new technology this year. His invention enables real-time monitoring of a patient's pulse rate during surgical procedures, enhancing the precision of medical interventions," he said, adding that further development of technology is currently underway.
The success of this device is being hailed as a new blessing in medicine, said professor Panda.
Abul Hasnat from Chandpur and and Utpal Kumar Ghosh of Satkhira are currently studying at IIT Hyderabad.
Hasnat is the first Bangladeshi student studying in the institute. He completed his BSc from Dhaka University of Engineering and Technology (DUET) and was preparing for higher education outside the country.
At that time, he came across the IIT Hyderabad scholarship circular.
Later, he secured his scholarship through online interviews.
Utpal Kumar, who completed both his bachelor's and master's degrees at MM College in Jashore, applied for the scholarship upon discovering the notice on the website.
After successfully navigating through subsequent stages, including online interviews, he secured a fellowship.
The Indian Institute of Technology (IIT) Hyderabad offers high-quality education in the fields of artificial intelligence, biomedical, biotechnology, chemical engineering, climate change, civil engineering, computer science engineering, material science and metallurgical engineering, mechanical and aerospace engineering, physics, chemistry, liberal arts, design, entrepreneurship and management.