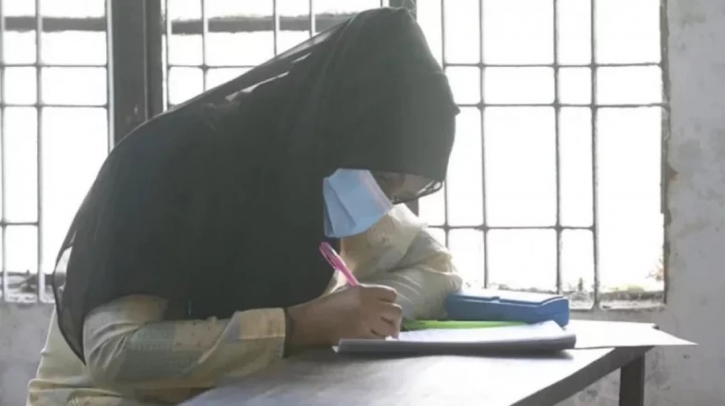 Khadijatul Kubra, a student of Jagannath University (JnU) who was released from Kashimpur central jail after securing bail in two DSA cases on Monday morning, sat for an examination shortly after her release.
Khadija was released from Kashimpur Women's Prison at around 9am on Monday and went directly to Jagannath University to take part in the semester final exam.
Although the exam started at 10am, she entered the hall at 11:30am.
She sat for the exam in the fourth semester after losing out on two semesters.
Her elder sister Sirajun Monira said: "We came to the prison early in the morning. Then Khadija was released at 9am."
Khadija secured bail on Thursday. The bail order reached the jail authorities on Sunday evening.
Despite waiting a long time on Sunday, her relatives had to return without her as she was not given the permission to leave.
The Supreme Court on Thursday upheld a High Court order that granted bail to Khadijatul Kubra in two separate cases filed under the abolished Digital Security Act (DSA).
A six-member bench of the Appellate Division of the Supreme Court headed by Chief Justice Obaidul Hassan passed the order.
The court also dismissed two separate petitions filed by the state challenging the High Court's bail order.
In October 2020, police filed two cases against Khadijatul and retired Maj Delowar Hossain at the Kalabagan and New Market police stations for spreading anti-government propaganda and harming Bangladesh's reputation.
The allegations in the two cases filed a week apart, were similar.
Police arrested Khadijatul on September 17, 2022. She has been imprisoned since then.
According to the case details, Khadija and Delowar conspired to broadcast false, fabricated, and defamatory propaganda about the prime minister, various government agencies, and senior state officials in order to oust the country's legitimate administration. They were aiming to destroy communal harmony through their conspiracy by promoting enmity, hatred, and division among various communities, it said.
Khadija was 17 when the cases were filed under the Digital Security Act in 2020, but the case was filed showing her as an adult, according to her lawyer.
Despite having kidney disease, Khadija's bail petitions were repeatedly denied by a Dhaka court.