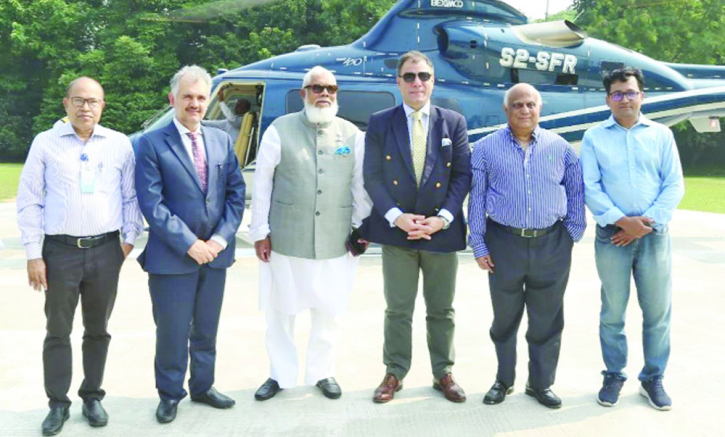 Syed Naved Husain, Group Director & CEO of BEXIMCO welcomed Lord Karan Bilimoria CBE, DL, Member House of Lords, UK, Chancellor of the University of Birmingham , Former President of CBI and one of UK`s leading Entrepreneurs to Beximco Industrial Park & Beximco Health PPE Park on Tuesday, 18th October 2022. Salman F Rahman, MP, Private Sector Industry and Investment Adviser to Honorable Prime Minister Sheikh Hasina & Co-founder and Vice Chairman of Beximco Group accompanied Lord Karan Bilimoria. SAT photo
Lord Karan Bilimoria CBE, DL, Member of the House of Lords, UK visited all the vertical textile and apparel units located in Beximco Industrial Park .He took deep interest in the latest computer, communications and control systems widely employed across Beximco`s large scale manufacturing ,and game changing new technologies used to reduce, recycle waste, as well as minimize water and energy usage, and produce all categories of Men`s, Women`s and Children`s Woven, Denim and Knit Apparel on a massive scale at one location with 40,000 employees. He was happy to connect with the highly qualified, experienced, motivated team of experts Beximco had managed to attract as a global employer of choice.
Lord Karan also visited Beximco PPE Industrial Park , and see all the completely vertical PPE manufacturing facilities starting from Poly Propylene Chips and producing Melt Blown and Laminated fabrics to produce high level non-woven Gowns, all types of Surgical Masks & Respirators, as well as large scale ETO sterilization facilities and South Asia's most advanced independent Intertek PPE Laboratory with both comprehensive testing facilities including Microbiological Testing.
Finally Lord Karan visited the vertical Shinepukur Ceramics and saw the production of Bone and Fine China Dinnerware for high-end customers including Royal Doulton, and Royal Albert.