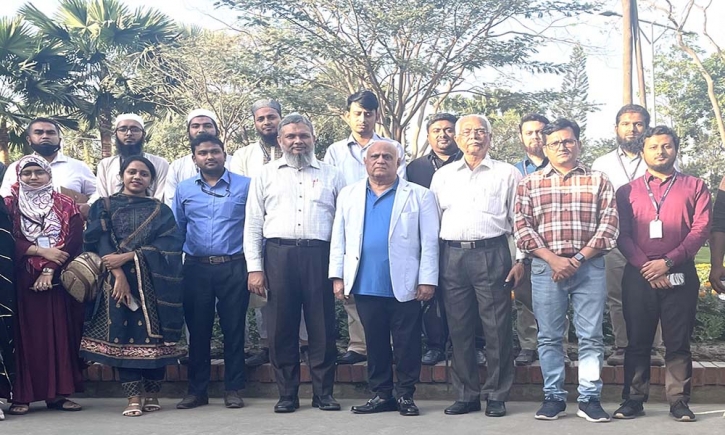 Prof. Dr. Engr. Ayub Nabi Khan, Pro Vice Chancellor of BGMEA University of Fashion & Technology (BUFT) along with Professors & 30 Faculty Members of BUFT visited Beximco Industrial Park on Tuesday the 7th of March 2023. Beximco Group Director & CEO Mr. Syed Naved Husain welcomed them.
All the faculty members toured Beximco Park were impressed by the beautiful park and state-of-the-art facilities. The Industrial Park, located in Savar, is a US Leeds Green Certified facility that uses state-of-the art technologies to produce world-class apparel, fabrics, PPE, and ceramics.
The visitors were impressed captivated after observing the cutting-edgemanufacturing technologies, recreational facilities, excellent working environment and highly skilled workforce at the Industrial Park.
Beximco has a long history of collaboration with BUFT. It has provided many internships to BUFT students to help them gain experience in design and technical systems. YELLOW, the retail division of Beximco, has worked closely with BUFT since 2010. Yellow has held many technical workshops at the new impressive campus of BUFT to teach the students about the latest trends in design, pattern making, fabrics and social media marketing. After a successful collaboration event in 2019, Yellow and BUFT are planning to work together for an even bigger event in 2023. This time Yellow is giving a selected group of talented student designers the opportunity to produce their own designs at Beximco Park.
This gives them real-world experience and the chance to showcase their ideas with Bangladesh's biggest and most advanced fashion brand. Yellow also allows BUFT students to gain experience working with Beximco sustainability manufacturing processes including working with recycled yarns, the advanced laundry that minimizes water usage, and the 3D digital systems that take the place of physical samples. These skills and knowledge sets are increasingly in demand by the world's biggest brands in today's competitive environment. Beximco and BUFT are working closely together to produce the next generation of Bangladeshi designers, technical experts and merchandisers who will carry Bangladesh to the next level of growth and expansion in the world's fashion markets.