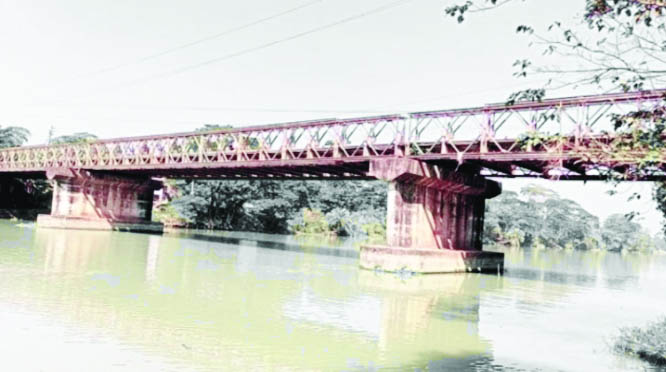 Jhalakati Correspondent
The Bailey Bridge, 120 meters long, was built in the eighties on the Basanda river in Jhalakati on the Barisal-Khulna highway. The bridge is currently in critical condition.
There are 588 claps on the upper plate of the bridge. The Department of Roads and Highways also declared it a `risky bridge` five years ago. Even then, various vehicles, including heavy ones, are taking risks on it every day. Despite declaring it risky, the Roads and Bridges Department did not take effective initiative to build new bridges.
Instead, huge sums of money are being spent on bridge repairs every year. In the last five years alone, about one crore rupees has been spent on the renovation of the bridge. That is why the locals have named the bridge `Road Department`s laying duck`. They claim that the Jhalakati Roads Department benefits every time it is repaired. According to the bridge authorities, the road department repairs the bridge three times a year under its own supervision without tender. Each repair costs 6 lakh rupees.
According to Jhalakati Road Sub-Division Engineer Humayun Kabir, they have spent around Tk 1 crore in the last five years on changing and welding some plates of the bridge. According to the Gabkhan Toll Plaza, more than 500 to 600 heavy vehicles pass through the perilous bridge every day.
Despite repeated repairs, the bridge became impassable again within a few days. The plate is bursting as well as the nut-bolt is loosened. Locals said that if the bridge collapses, road communication from Jhalakati to Pirojpur, Bagerhat, Khulna and Jessore will be completely cut off. Idris Hawlader, bus driver of Dhansindri Paribahan from Barisal to Khulna, said,
It looks like an earthquake is brewing, a new bridge needs to be built quickly, otherwise it will collapse at any moment. " Opened. The bridge is also likely to collapse.
No more repairs. Now it needs to be rebuilt, "said a resident of the bridge area. Authorities occasionally weld the joints of the plate to stop the noise. The bridge could collapse at any moment.
If the car breaks down, there will be a big loss of life. Nabil Hasan, executive engineer of Jhalakati Roads and Urban Development Department, said, "Design has been sent to Dhaka to build the risky Basanda Bailey Bridge with concrete." If the DPP is implemented, a new bridge will be built here soon. `
Additional Chief Engineer of Barisal Zone Abu Hena said. Tareq Iqbal said the Basanda Bridge was among the letters sent to the project director of the Western Bangladesh Bridge Improvement Project to finalize the list of possible bridges for making follow-up project proposals. Once approved, the new bridge will be built.