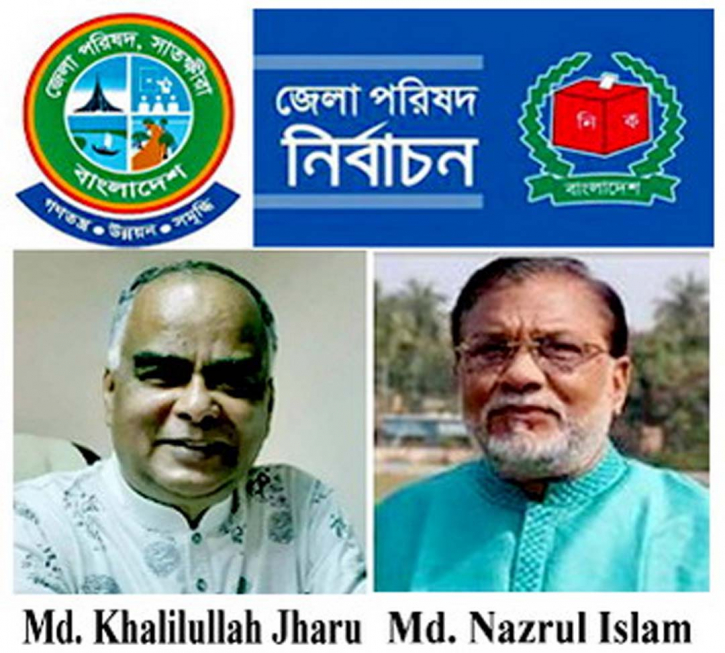 In the Satkhira Zilla Parishad election 2022, 2 candidates are contesting for the post of Chairman, 25 candidates for the post of General Members and 10 candidates for the post of reserved Women Member.
Satkhira District Commissioner and Returning Officer Mohammad Humayun Kabir allotted symbols among these candidates On Monday (September 26) noon.
As opposed Satkhira Zilla Parishad Chairman post, Bangladesh Awami League nominated candidate of District Awami League General Secretary and former Chairman and Administrator of Satkhira Zilla Parishad Md. Nazrul Islam is contesting for the post of chairman with motorcycle symbol and independent candidate Satkhira District Association of Dhaka President, Satkhira Central Cooperative Bank Ltd. Chairman and Jubo Academy, Satkhira Chairman Md. Khalilullah Jharu with shrimp fish (Chingri Mach) symbol.
Against 7 General Membership posts, in Ward No. 1- Indrajit Das, Baidutik Pakha, Safiqul Islam, Tala (Lock) and Mir Zakir Hossen, Tube well. In Ward No. 2 - Matiar Rahman Gazi, Autorickshaw, Sheikh Ashiqur Rahman, Tala (Lock) and Amzad Hossen, Tube well. In Ward No. 3- Monirul Islam, Tube well, Gholam Mostafa, Tala (Lock) and Syed Aminur Rahman, Autorickshaw. In Ward No. 4 - Nazrul Islam, Tala (Lock) and Al Ferdous, Elephant (Hati). Ward No. 5- Md. Fazlul Haque, Baidutik Pakha, Md. Nuruzzaman, Tala (Lock) and Sheikh Feroz Kabir, Tube well. In Ward No. 6- Abdul Hakim, Tala (Lock), Mahitur Rahman, Elephant (Hati), Samsul Alam, Tube well, Habibur Rahman, Woutpakhi and Toshike Kaifu, Bak Pakhi and in Ward No. 7- Mortaza Kamal, Baidutik Pakha, Gholam Mostafa, Elephant (Hati), Dalim Kumar Gharami, Tala (Lock), Mallik Fazlul Haque, Cricket Bat, Maksudur Rahman, Tube well and Mohammad Nurul Haque with Bakpakhi symbol are contesting for the General Membership posts.
Against 3 reserved Women Membership posts, in reserved ward No. 1 - Rokeya Moslem Uddin, Football and Mahfuza Sultana Ruby, Doyat Kalam. 2nd Ward- Sonia Parvin Shapla Table Clock, Advocate Shahnewaz Parvin Milli, Mike, Nazmunnahar Munni, Book and Rashida Khatun, Football.
In Ward No. 3- Rozina Parvin, Doyat Kalam, Shilpi Rani Mahaldar, Football, Fatema Khatun Rikta, Harin (Deer) and Rokeya Khatun with Book symbols are contesting for reserved Women Membership posts.
District Election and Assistant Returning Officer Faraji Benazir Ahmed said, Satkhira Zilla Parishad election will be held through EVM at 9 am to 2 pm on Monday 17 October, 2022 noon.
Satkhira district of 78 unions of 1,014 people including UP Chairman, UP Members and reserved Female UP Members, 21 people including Chairman, Vice chairman and Female Vice chairman of 7 (Tala, Kalaroa, Satkhira Sadar, Asashuni, Debhata, Kaliganj and Shyamnagar) upazilas and 2 ( Satkhira and Kalaroa) municipality has 26 electorates including Mayor, Councilor and Women Councilors. A total of 1,061 voters will exercise their franchise in the Satkhira Zilla Parishad elections.