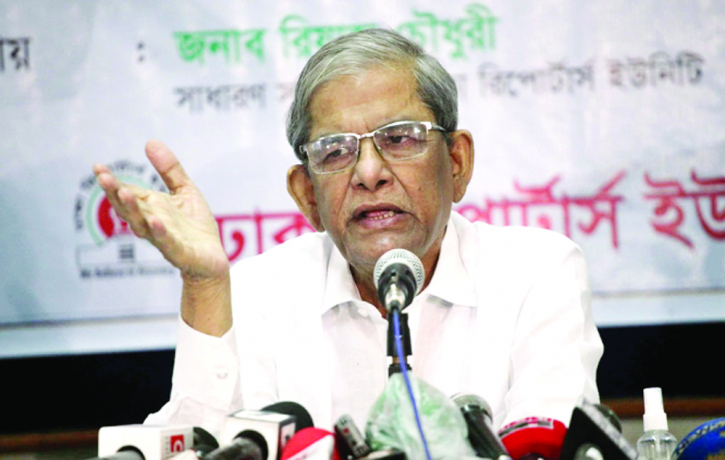 As part of its move to continue the pace of ongoing movement, BNP on Wednesday announced to hold public rallies in 10 divisional cities from October 8.
Besides, the party will organize two mourning rallies in all divisional cities and all district towns on October 6 and 10 respectively in memory of five leaders of BNP and its different associate bodies killed in the current movement since July 31.
BNP Secretary General Mirza Fakhrul Islam Alamgir announced the programs at a press conference at BNP's Nayapaltan central office.
After holding 14 rallies in the capital, the BNP standing committee worked out the fresh programs at a meeting on Monday night.
Fakhrul said the BNP standing committee meeting denounced the killing of the party's five leaders – Nur-e-Alam and Abdur Rahim in Bhola, Shaon Prodhan in Narayanganj, Shahidul Islam Shaon in Munshiganj and Abdul Alim in Jessore – by the Awami League government during the movement in protest against the price hikes of fuel and daily essentials.
He said the meeting also decided to hold divisional rallies in protest against the killings and file cases against the party leaders and activists and demand the release of BNP Chairperson Khaleda Zia.
As per the schedules announced by the party, it will organize a rally on October 8 in Chittagong, October 15 in Mymensingh, October 22 in Khulna, October 29 in Rangpur, November 5 in Barisal, November 12 in Faridpur, November 19 in Sylhet, November 26 in Comilla, December 3 in Rajshahi and December 10 in Dhaka.
Fakhrul said they want to mobilize public opinion and enhance people's involvement with their movement through the programs: "We want to mount pressure on the government (to accept our demands) through a strong mass movement with the active participation of people.
He said people's participation in their programs has increased as people are now united to ensure the fall of the Awami League government.
Earlier BNP announced to hold 16 rallies in the capital to intensify its anti-government movement and the party arranged 14 rallies from September 10 to September 27. But the party suspended its rally in Lalbagh while another rally was foiled in Pallabi by law enforcers.
BNP has been organizing demonstrations and rallies across the country since August 22 protesting the price hikes of daily essentials.