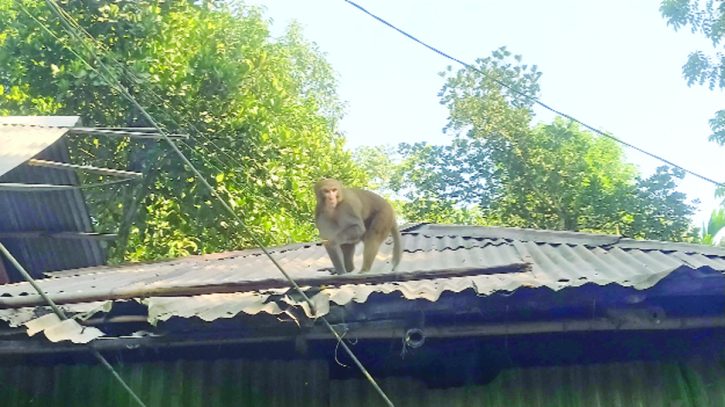 Two monkeys are running here and there in search of food in the town of Kurigram. This has created curiosity among the locals.
Such a picture was seen in Thana Para area of the city on Tuesday morning.
It can be seen that the monkeys are moving around for food in various houses and tree branches in Jalil Bidi lane, Old Thana Para, Saddir lane, Kalibari area of Kurigram Municipality.
Kurigram Forest Department says these monkeys may come from the border area of India. Hungry monkeys are moving around in search of food. Later the monkeys descend to convenient places to look for food. Such starving monkeys are seen regularly in the locality. On the roof of the house, people are also giving food.
Biplab, a resident of Old Thana Para, said, 'I saw the monkeys in front of my house around 8 am in the morning and we gave them bananas, apples and nuts. They are eating by taking the food.
Another resident Arpana Sarkar said, "monkeys have been seen for the last two days. Although no one has been harmed so far. It may have come from the forest without getting food.'
Officer-in-charge of Kurigram Forest Department Mominul Islam said, maybe the monkeys escaped from India through the border of Bhurungamari. They come to the locality in search of such food. We will not disturb them with food or stones. They will soon go back to the forest.