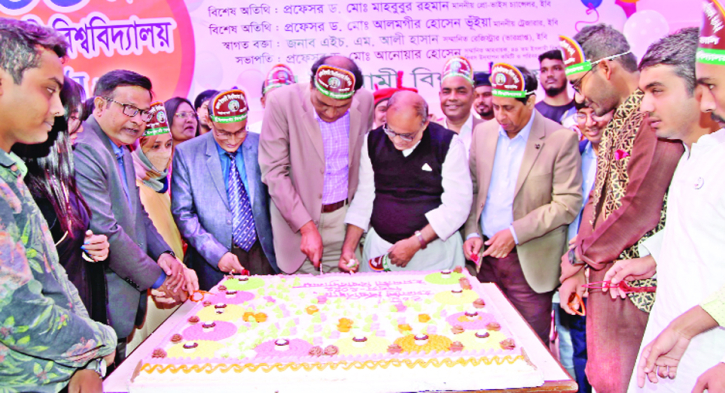 The authorities of Islamic University in Kushtia celebrated its 43rd founding anniversary on the campus amid great enthusiasm and festivity. The university authorities chalked out elaborate programmes including hoisting national and university flags, a rally, a discussion and a cultural event, marking the day.
IU vice-chancellor Professor Shaikh Abdus Salam hoisted the national flag while Pro-vice-chancellor Professor M Mahbubur Rahman hoisted the university flag in front of the university's administration building in the morning. Provosts of all residential halls also hoisted the national flag and university flag atop on the premises of their respective halls at the same time. Later, the university authorities placed floral wreaths at the university's Mrittunjoyee Mujib mural to pay tribute to Bangabandhu. After that, the VC inaugurated the day-long programmes releasing pigeons and balloons in the sky at 10:30am.
Later, the teachers, officials, students and staff of the university brought out a colourful procession, led by IU VC. The procession ended in front of Bangla Mancha adjacent to the university's arts building after parading the main roads of the campus. A discussion meeting, cake-cutting ceremony and cultural event were also held there. IU treasurer Professor M Alamgir Hossain Bhuiya, acting registrar HM Ali Hasan, transport administrator M Anowar Hossain, deans and chairpersons of different faculties and departments and IU BCL leaders and activists were present on the occasion, among othres. Different halls and academic buildings of the university were pleasantly decorated with colourful lighting to mark the founding anniversary. Islamic University was established on November 22 of 1979 and started its academic activities in 1985 with four departments, eight teachers and 300 students at Board Bazar in Gazipur. At present, it has 36 departments under eight faculties where 403 teachers are assigned to 13,468 students.