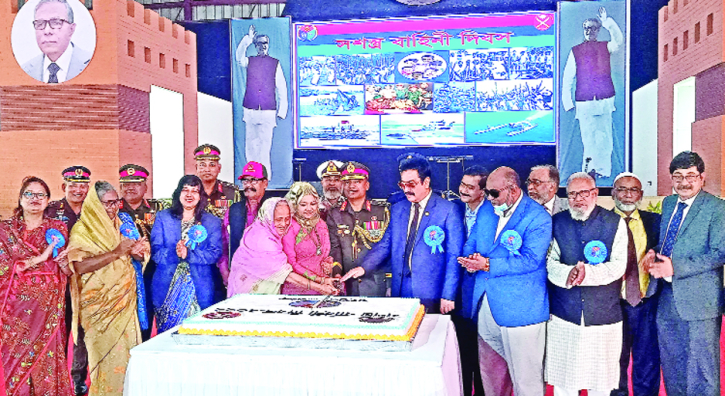 Armed Forces Day,2022 observed in Rangpur Canttonment with befitting manner on November 21.On the day three hundred five freedom fighters and family members of the martyred were felicitated. Earlier, Major General Faizur Rahaman, Area Commander, 66 Infentry Division, inaugurated the day by blowing balloons
After that, on the occasion of the day, Rangpur City Corporation Mayor Mostafizar Rahman Mostafa, Member of Parliament Moshiur Rahman Ranga, Manoranjan Sheel Gopal, Mahbub Ara Gini, Zakia Tabassum, Abul Kalam Md. Ahsanul Haque Chowdhury Duke, Rangpur Divisional Commissioner Sabirul Islam, Rangpur Range participated in the cake cutting ceremony. DIG Mohd Abdul Alim Mahmud, Rangpur Metropolitan Police Commissioner Nur Alam Meena and senior military and administration officials. In the opening ceremony, GOC praised the infinite bravery, cooperation and heroic contribution of Rangpur region and paid tribute to all the brave martyrs including the brave freedom fighters.
Along with that, he highlighted the various activities of the armed forces in the protection of independence and sovereignty in the country and peacekeeping in the United Nations. Senior officials of military, civil administration, dignitaries and media workers were present at this time. At the end, a wonderful cultural program was performed.