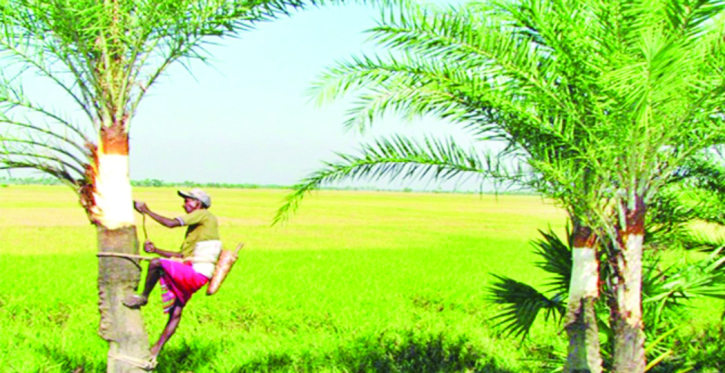 The farmers are busy collecting sap from palm trees in different unions of Kathalia upazila of Jhalokathi. The early morning is now shrouded in fog. The farmers have started collecting sap by hanging pots on palm trees. They say that the sap is falling into the pot as the winter is fast approaching.
Meanwhile, palm trees are dying for brick kilns in various unions. According to Kathalia Upazila Agriculture Office sources, there are thousands of palm trees in various unions including KathaliaThere are pots of sap hanging from many trees.
Md. Barek Howladar, the juice seller of Joy Khali village of police station, said that all the trees like us have already cut down at least 10 to 20 trees and started collecting juice. They also said that after cutting a palm tree three times, it becomes a fake leaf for juice. A palm tree yields juice twice a day. The morning juice is sweet and the afternoon juice is bitter. From the month of Magha, the flow of rasa begins to decrease.
At that time the density of the juice also increases a lot. Jaggery that we make from Ras Jal is sold at the highest market price in the market. Locals and Md. Liton Sikder, General Secretary Ward No. 2 Awami League Kathalia Sadar No. 4 Union, in the past there were many palm trees everywhere in the upazila. Many trees have been sold as fuel to brick kilns. During the juice season, each palm tree is rented for 2/3 hundred taka. Many people sell the trees at the end of the season.
Several palm tree owners said that the demand for juice collectors has increased as winter has come. The juice is also well priced. In the current season, 15-20 kg of juice is available from each palm tree. If a tree is cut once a week, three days of sap is available.
In this regard, Kathalia upazila agricultural worker said that date palm juice is a tradition of Bengalis in the winter season. In this upazila, every year at this time, farmers collect the juice of dates and many make jaggery and sell the raw juice.