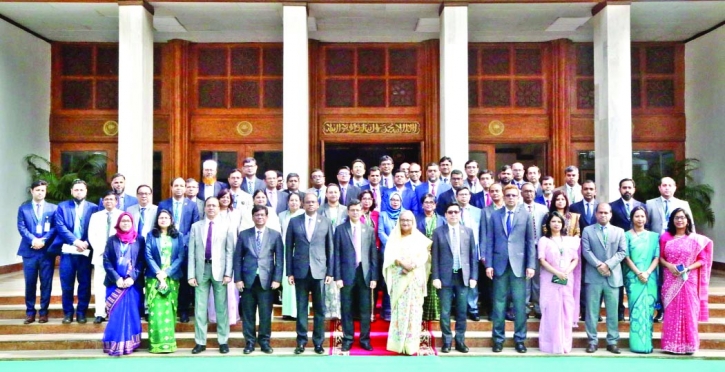 Prime Minister Sheikh Hasina yesterday asked the deputy commissioners (DCs) to take only necessary projects alongside implementing 25 directives including putting emphasis on increasing food production and taking measures for saving electricity and energy.
"The projects which are necessary at this moment, we only want to take those instead of going for wholesale manner keeping in mind the global economic recession due to Covid-19 pandemic and Russia-Ukraine war," she said.
The prime minister said this while opening the three-day annual DC Conference-2023 at the Shapla Hall of her office here. She asked the DCs to consider "how many projects are effective and beneficial for the particular areas and their people whenever taking those".
The premier also asked them to take into consideration saving money from the projects by avoiding unnecessary expenses.
She slammed BNP for talking about scraping the project of purchasing Electronic Voting Machines (EVMs) worth about Tk 8000 crore.
She said the project was cancelled not for fund crisis although the world is going through an economic recession."The economic crisis is persisting globally. We have also the crisis, but it is not such a condition that we have to scrap the project," she said.
But, purchasing of EVM is not the priority of Bangladesh, rather its priority is to ensure food security, health services and welfare of the people alongside increasing food production, Sheikh Hasina said.
"We will spend required money to this end," she continued.
Calling upon the DCs to work with priority in implementing her 25 directives for making a developed, prosperous and Smart Bangladesh by 2041, she said, "I am asking you to give attention to take some measures (25 directives)".
The prime minister however expressed her satisfaction to the field level administration for their sincerity and cooperation to implement the government plans, policies and programmes properly at the grassroots.
"Bangladesh has marched ahead and we have got global acclamation as you are working for the country and its people with professional duty and sincerity," she said.
The prime minister said that she witnessed sincerity among the local administration since her government assumed office.
Referring to a speech of Father of the Nation Bangabandhu Sheikh Mujibur Rahman, she asked local administration officials to be public servants as their salaries and other benefits are being given from the taxes of the people.
"Work for serving the people by devoting yourselves and then you will get satisfaction," she added.
State Minister for Public Administration Farhad Hossain spoke at the function.
Cabinet Secretary Md Mahbub Hossain gave the address of welcome as PM's Principal Secretary Md Tofazzel Hossain Miah also spoke.
Rajshahi Divisional Commissioner GSM Zafarullah addressed the function on behalf of the divisional commissioners while Narsingdi DC Abu Nayeem Mohammad Maruf Khan and Bandarban DC Yasmin Parvin Tibriji, as well, spoke on behalf of the deputy commissioners.
A video documentary on the overall development of the local administration was screened at the function.
Sheikh Hasina asked the DCs not to see their works as mere jobs rather to consider those as "service to people".
In this connection, she referred that she had changed the name of establishment ministry as the public administration ministry to develop the mindset of serving people.
The premier asked the DCs to ensure that the people receive services in time from the government offices and acquire satisfaction from the service-seekers.
She said her government is working in a planned way as no nation can develop with a specific and well-thought-out plan.
The prime minister said her government is now giving topmost importance to increase agricultural production alongside preserving those in a proper manner as Bangladesh would never be affected by the impending global food crisis.
She added that Bangladesh needs to reduce dependency on imported food items through growing those by own.
In this connection, she said once upon a time Bangladesh would have to depend on India for sacrificial animals. But, now the country is self-sufficient in livestock production, she added.
Likewise the sacrificial animals, Bangladesh had to import onions, but now the country starts growing onions, she said.
In such a way, she said Bangladesh can produce its own foodstuffs and export additional items to other countries.
The prime minister said her government is attaching priority to preservation of the produced food items to save them being damaged.
She said they are working to ensure cold-storage system to preserve the food items, adding that firstly the system can be built at divisional cities and later in every district.
The premier said her government is also working to ensure cooling system in every mood of transport to preserve those during transportation.