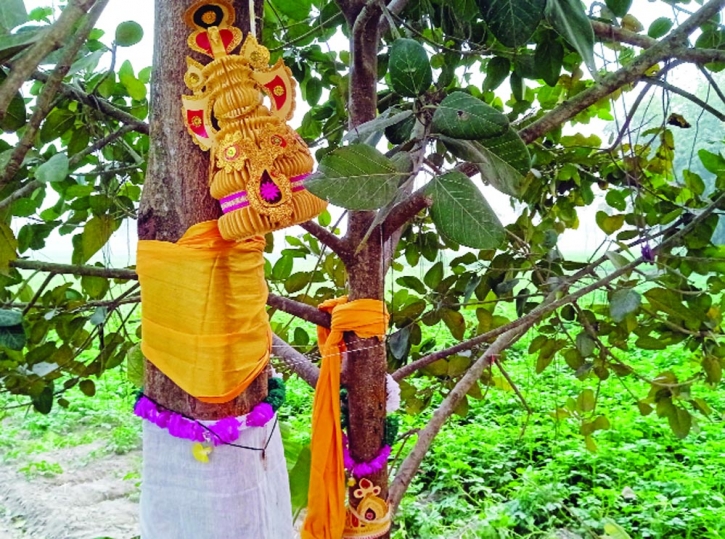 Exceptional marriage between a Banyan tree and Pakur tree held in Dinajpur area. Banyan tree dressed as bride and Pakur as bride groom in Rudrapur village of Mangalpur union of Dinajpur Biral upazila. Hundreds of family members from the neighborhood participated in the marriage ceremony.
The main wedding ceremony was completed on Monday afternoon. However, it was organized since morning. In the wedding, banyan tree is arranged as bride and pakkur tree as groom. Subrata Chandra Roy was the father of the bride and the father of the boy was Anil Chandra Roy of the same area. Priest Ramakrishna Chakraborty performed the marriage ceremony.
Subrata Chandra Roy, who donated a daughter, said, "I have only heard about the marriage of the banyan tree and the palm tree. Never saw that wedding. Today I myself am offering the banyan tree as the father of my daughter. This marriage has been organized for the well being of our family. This marriage is being given according to traditional customs.
Son's father Anil Chandra Roy said, "Bata (Banyan) and pakur trees grew naturally in my Thakurbari." Then my mother asked me to marry these trees for our benefit. Then we both planted the bot-pakur trees here. Today that tree is getting married. Through this we will all be well. The dangers of our family's children will be removed.
Ranjit Shil of the area said that the marriage of pakur tree has been going on since before. This marriage brings prosperity and fulfillment. This wedding is arranged with full wishes.
Ashadhu Chandra Roy, who is about 75 years old, said that if there is no child, there is a custom of marriage between banyan and pakur trees.
Sanchita Rani Roy, a student of class-nine said, I have heard a lot, but for the first time in my life I saw the marriage of banyan and pakur tree. Coming to my girlfriend's house and watching this wedding.
Marriage priest Ramakrishna Chakraborty said, marriage of banyan-pakur removes the family's misfortune. The children of their family will not have any lack or suffering in their lives. For this, Anil and Subrata Chandra Roy of Rudrapar are getting married in banyan-pakur today.