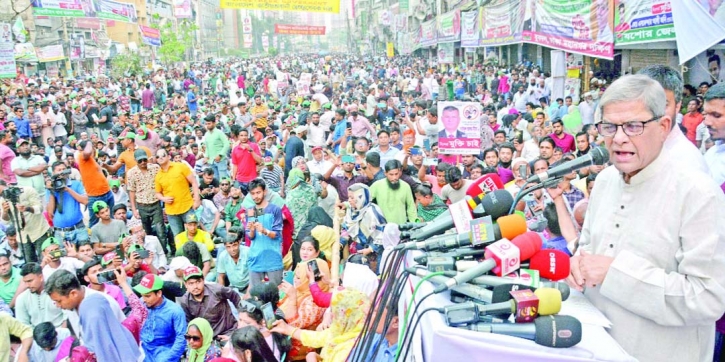 BNP Secretary General Mirza Fakhrul Islam Alamgir on Saturday alleged that the country's resources have been depleted due to all-pervasive corruption by the current government as Awami League's main principle is to indulge in graft and siphoning off money abroad.
"There was a slogan in India---thieves are in every alley and lane and this leader (I don't want to mention anyone's name) is a thief. Now our slogan is vote-thief Awami League's principle is to indulge in corruption and money laundering," he said. Speaking at a rally, the BNP leader said the current ruling party is not only a vote thief but also a thief of Bangladesh's economy. "The entire country and the economy have got devastated because of Awami League's corruption. "A government of people in true sense must be established by removing the corrupt one."
He said they together with other parties and people of the country would force Awami League to quit and hold the next polls under a caretaker government by dissolving the parliament. "An elected parliament and a government of elected representatives will be formed through that election."
Fakhrul called upon party leaders and activists to get ready to intensify their ongoing movement. "The government which has been in power by force without elections by using the state machinery must be forced to quit by applying our all strengths."
Stating that their party's 17 leaders and activists lost their lives in the ongoing anti-government movement since August 22 last year, he said there is no alternative for BNP to making the struggle a success to honour the sacrifices of the slain party men.
BNP's Dhaka south and north city units arranged the rally in front of the party's Nayapaltan central office to press home their 10-point demand, including holding the next general election under a non-party caretaker government.
The programme was also meant for registering the opposition parties' protest against the 'all-pervasive corruption by the Awami League government, rise in the prices of power, gas and essential items, and mounting pressure on the government to release BNP Chairperson Khaleda Zia without any condition, essentially to drop the 'false' cases against her.
As part of a programme of the simultaneous movement, BNP also arranged rallies in all other metropolitan cities across the country.
Apart from BNP, Ganotantra Mancha, Jatiyatabadi Samamona Jote, Gonoforum and People's Party, Jatiyatabadi Samamona Jote, Peshajibi Ganatantrik Jote, 12-party alliance, Bam Ganatantrik Oikya and LDP held separate rallies from in different areas of the capital.