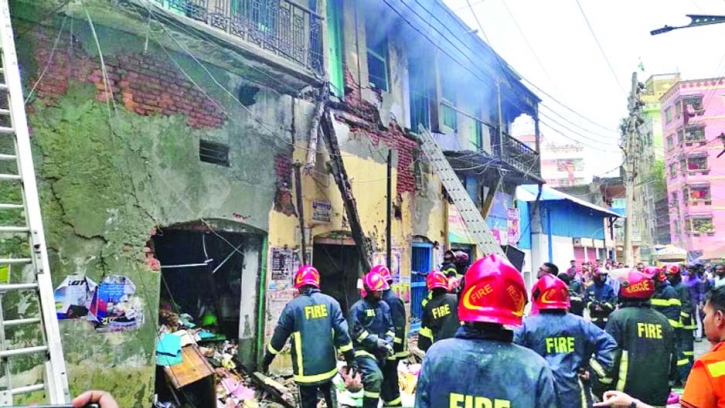 A 40-year old man was killed and 9 people were injured in an explosion that triggered a fire at a warehouse in Narayanganj's Nitaiganj Saturday morning.
Awlad Hossain succumbed to his injuries at Sheikh Hasina National Institute of Burn and Plastic Surgery in the capital, Anisur Rahman, officer-in-charge of Narayanganj Sadar police station, confirmed.
The rest burned injured are undergoing treatment there, he said.
Shahjahan Shikdar, deputy assistant director (media cell) of Fire Service and Civil Defence, said the fire broke out in the two-story building around 9 am following an explosion.
A portion of the building collapsed after the explosion, he said.
On information, six firefighting units rushed to the spot and brought the blaze under control around one and an half hours after the incident.
However, what caused the explosion and the subsequent fire could not be known immediately, he said.
Fakhruddin, an assistant deputy director of Narayanganj fire service, said the building was declared risky as it may collapse any time.
Abdul Kadir, president of Nitaiganj Multilateral Cooperative Society, said former president of the district's flour mills owners' association Illias Dewan is the owner of the building which was used as warehouse of pulse, rice, salt and other products.
The first floor of around 100-year-old building was declared abandoned around 10 years back, he said.
Golam Mostafa Russell, superintendent of police in the district, said onlookers were removed from the spot after the building was declared risky.