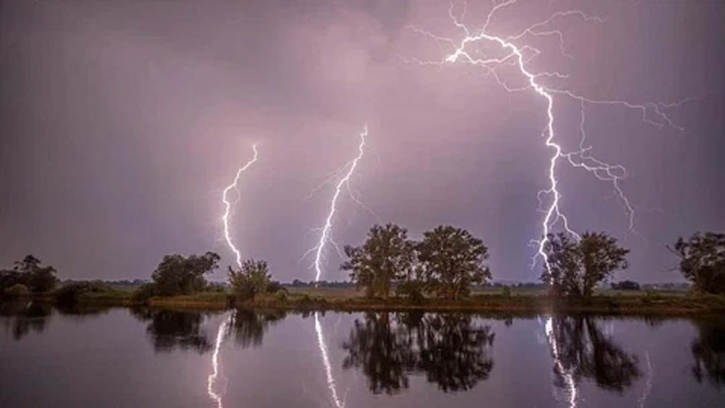 Fourteen people were killed in separate incidents of lightning strikes in Narsingdi, Chnadpur and Lalmonirhat yesterday.
In Narsingdi, four people were killed by lightning strikes in Monohardi, Palash and Raipura upazilas yesterday.
The deceased were identified as Raihan Mia, 30, of Monohardi, Khonkon Mia, 30, of Palash, and Samsun Nahar, 45, and Jabed Mia, 12, of Raipura upazila, our Narsingdi correspondent reports quoting police and locals.
Farid Uddin, officer-in-charge of Monohardi Police Station, said Raihan died on the spot after he was struck on his way home in Patardia village this noon.
Samsun Nahar, of Fakirchar village in Raipura, was killed around 11:00am, said Srinagar Union Parishad member Jalal Uddin.
The incident happened while she was taking straw from a field to her home, the UP member said.
Azizur Rahman, officer-in-charge of Raipura Police Station, said Jabed Mia died on the spot after being struck by lightning when he was playing football in front of his home at Gopinathpur around 2:00pm.
Farmer Khokon was injured after a thunderbolt hit him when he was working in a field this morning. He died on the way to hospital around noon.
In Chandpur, Hasan Miji, 45, was killed in a lightning strike while harvesting mangoes in Chhoto Sundar area of Chandpur Sadar around 3:30pm, said Rampur Union Parishad Chairman Md Al Mamun Patwari.
In Lalmonirhat, Nurul Aalm, 35, was struck by lightning when he was returning home with cattle in Harinchara area this afternoon, leaving him dead on the spot, said Ershadul Alam, officer-in-charge of Sadar Police Station.