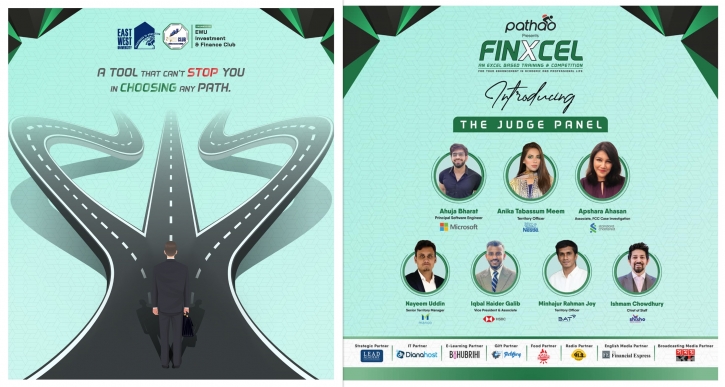 East West University Investment and Finance Club (EWUIFC) has launched a new Excel-based training and competition called FINXCEL. The event's finale will be held on August 5, 2023, and it is open to all undergraduate students of East West University.
FINXCEL will consist of three workshops and three competitive rounds. The workshops will cover the basics of Excel, as well as intermediate and advanced topics. The competitive rounds will test participants' knowledge of Excel through a series of challenges.
The judging panel for FINXCEL includes: Ahuja Bharat, Principal Software Engineer, Microsoft; Anika Tabassum Meem, Territory Officer, Nestle Bangladesh; Apshara Ahasan, Associate, FCC Case Investigation, Standard Chartered Bank; Nayeem Uddin Senior Tentory Manager, Marico; Iqbal Haider Galib Vice President & Associate, HSBC; Minhajur Rahman Joy, Territory Officer, BAT; Ishmam Chowdhury, Chief of Staff shixho.
The total prize pool for FINXCEL is Tk 25,000. The champion will receive Tk 5,000, while the first and second runners-up will receive Tk 4,000 and Tk 3,000, respectively. The fourth and fifth-place finishers will each receive Tk 1,500, and the remaining participants will receive Tk 1,000 each.
In addition to the prize money, participants will also receive certificates, probationary internships at Pathao, course scholarships from Lead Academy and Bohubrihi, gift hampers from Tech burg, vouchers from Pathao and Chillox, and souvenirs such as t-shirts and notepads.
Sourav B., President of EWUIFC, said that FINXCEL is designed to help students develop their Excel skills and gain hands-on experience. "We believe that this event will be a valuable opportunity for students to learn from experienced trainers and compete against their peers," he said.
About East West University Investment and Finance Club: East West University Investment and Finance Club (EWU IFC) is a student organization dedicated to promoting financial literacy and investment education among students at East West University. The club organizes a variety of events and activities, including workshops, seminars, and competitions.
EWUIFC is committed to providing students with the knowledge and skills they need to succeed in the financial world. The club's goal is to help students become financially literate and make informed investment decisions.
Akib Al-Mas, The Writer is a student of the Dept. of Business Administration, East West University, Bangladesh