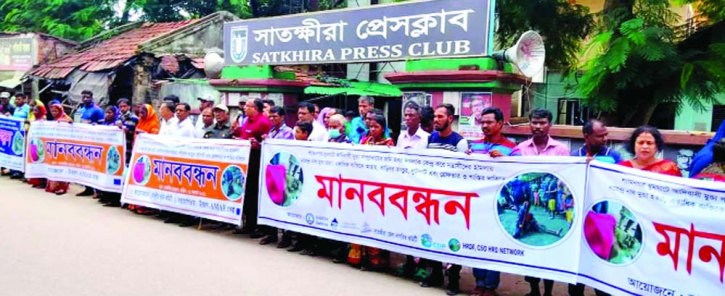 To protest against the attack on the Adibasi Mund community of injured three women and beating one to death at Dhumghat of Shyamnagar Upazila in Satkhira, a human chain and protest assemble was held in front of the Satkhira Press Club at 11am on Sunday (August 21) morning.
Various social and human rights organizations including Uttaran, MSF, Bhumi Committee, Pani Committee, Law and Arbitration Center Dhaka, SoDESH, HRDF, CSO & HRD Coalition, Bangladesh Mahila Parishad, District Adivasi Forum, SAMS Shyamnagar have observed this agenda.
Satkhira District Nagorik Committee of Member Secretary Adv. Abul Kalam Azad presided over the human bonding program, former Principal Abdul Hamid, journalist Kalyan Banerjee, Professor Anisur Rahim, Press club President Mumtaz Ahmed Bappi, Human Rights Activists Raghunath Kha, Madhav Chandra Dutto, Jyosna Dutto, Adv. Moniruddin, Fanindranath Munda, Tarapad Munda, Jaydev Munda, Prashant Munda, Gopal Munda, Farida Akhtar Beauty, Afzal Hossen, Rana Lewis Gain, Maryam Mannan, Bhumihin Leader Abdus Samad, Asit Munda, Dhiman Sarkar among others.
The speakers said, Adibasi Munda community of land is not transferable without permission of District Commissioner (DC) under the Tenancy Act. However, Rashedul and Ebadul village of Sreefalkati in Shyamnagar tried to seize Dhumghat village of Mulluk Chad Munda of eight bighas of land by forging documents on Friday morning. 22 of Munda community living there, people were held hostage at gunpoint and their paddy fields were plowed with power tillers.
At that time, three women and one man were injured by being cut and beaten. Narendra Munda died while undergoing treatment at Satkhira Medical College Hospital on Saturday (August 20) afternoon. Also this, Karno Munda, Sanzit Munda and Khukumni Munda were attacked in Shahebkhali village of Kaikhali Union of Shyamnagar upazila. The speakers demanded immediate arrest and exemplary punishment of those involved in the attack.