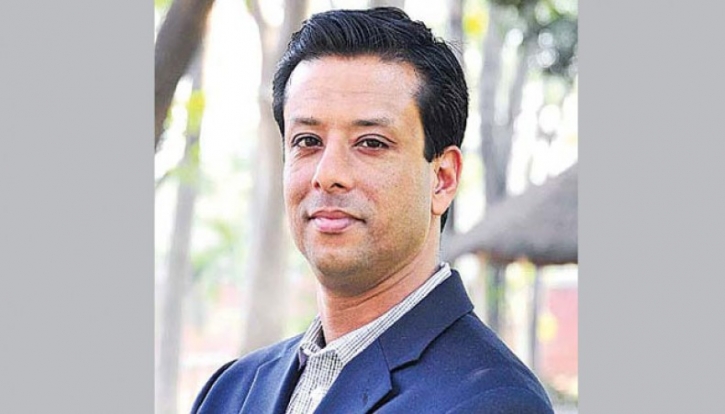 The ruling Awami League (AL) today greeted Prime Minister's Information and Communication Technology Affairs Adviser Sajeeb Wazed Joy on his 52nd birthday.
In a message, on behalf of the party, AL General Secretary Obaidul Quader today extended the sincere felicitation and greetings to Joy, marking his birthday.
Terming Prime Minister Sheikh Hasina's able son as the reflection of prosperous future, icon of the young society and worthy, skilled, patriotic and workaholic hero of the changed Bangladesh, he sought 'dowa' from the countrymen and prayed to almighty Allah for good health and long life of Joy.
"Today is the happy birthday of Sajeeb Wazed Joy, the grandson of the greatest Bengali of all time Father of the Nation Bangabandhu Sheikh Mujibur Rahman and the able son of successful Prime Minister Sheikh Hasina. On this day in 1971, Joy was born on the juncture of potentials amid the great struggle of the Bengali nation," Quader said.
Joy was in long exile with his mother Sheikh Hasina after the assassination of Father of the Nation along with his family, he said, adding that overcoming all the hurdles and odds, he obtained higher education.
"He received his higher academic degree from Harvard University, a famous educational institution in the United States. But no infatuation could overwhelm him," the AL joint secretary said.
Quader, also road transport and bridges minister, said as a member of the family of his maternal grandfather, Father of the Nation Bangabandhu Sheikh Mujibur Rahman, and being imbued with the ideals of Bangabandhu, Joy came back to Bangalee leaving all infatuations behind.
Joy disseminated his acquired knowledge for the prosperity of the Bangalee nation, he said, adding, "We achieved political liberation through the long freedom struggle and the great Liberation War under the undisputed leadership of Bangabandhu. His able daughter, the successful statesman Sheikh Hasina, brought economic emancipation for the nation".
To make the dreams of Bangabandhu and his daughter a reality, Quader said, Joy has opened up new horizons of possibilities with the help of developing technologies, shown amazing successes and sown the seeds of achieving dreams by spreading hopes of beginning new life in the hearts of thousands of youths.
He has taken Bangladesh to a unique height by establishing 'Digital Bangladesh' to develop the new generation as world-class citizens in the current era of technological excellence, the AL leader said.