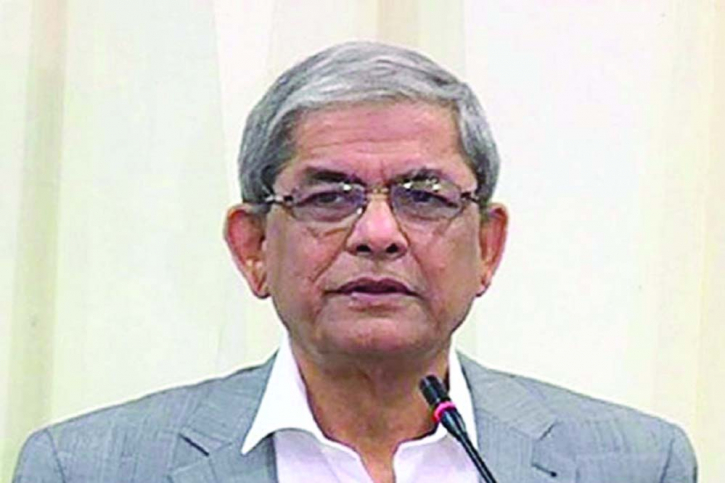 Slamming the foreign minister for seeking India's 'support' to prop up Sheikh Hasina's government, BNP Secretary General Mirza Fakhrul Islam Alamgir on Saturday said those who stay in power at the mercy of others have no right to rule Bangladesh. "The current government does not believe in the independence and sovereignty of the country and they're giving proof of this one after another. When the people of Bangladesh feel proud to identify themselves as an independent (nation), then the foreign minister sought help from the Indian government to keep Sheikh Hasina in power," he said.
Speaking at a human chain programme, Fakhrul said Foreign Minister AK Abdul Momen's comment has manifested that the Awami League government has been in power with the help of the Indian government.
He said the foreign minister gave an explanation of his statement on Friday but did not budge from his position and he reaffirmed what he said earlier.
"So we have to clearly say that those who stay in power at the mercy of others have no right to rule this country. They have no right to run the government of this country," the BNP leader said.
University Teachers' Association of Bangladesh (UTAB) arranged the program protesting the loadshedding, hikes in the prices of fuel and essential commodities and political repression.
Earlier at a Janmashtami programme in Chattogram on Thursday, Foreign Minister AK Abdul Momen reportedly said that he urged the Indian government to back Prime Minister Sheikh Hasina so that she can stay in power.
Accusing the government of indulging in widespread plundering, Fakhrul said this regime has got isolated from the country's people. "They've already turned Bangladesh into a failed state."
He said the country is facing various problems as Awami League is in power. "This is the root cause of our all crisis. Awami League has been staying in power by force using the state machinery without voting and without being elected."
"It's now our sacred duty to wage a movement together with people to remove this fascist government that is destroying Bangladesh and establish a real government of people," the BNP leader said.