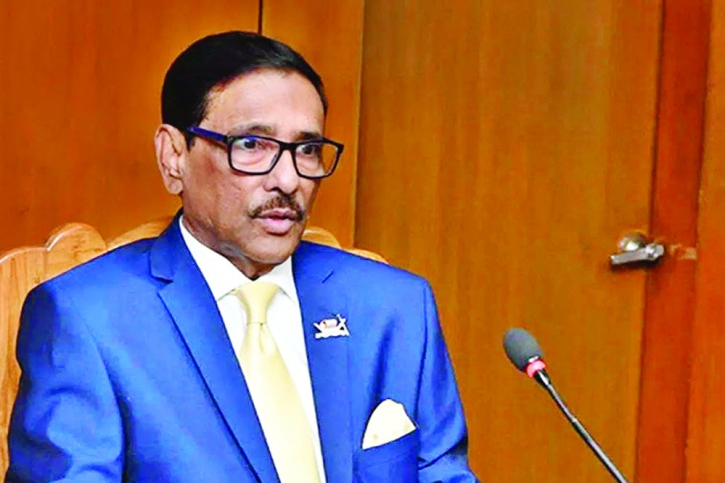 Awami League (AL) General Secretary and Road Transport and Bridges Minister Obaidul Quader yesterday said the country's people will not vote for BNP responding to the urge of foreigners.
"No matter how much the BNP complains, the people of Bangladesh will not vote for the party responding to the call of foreigners," he told triennial conference of Awami Jubo League's ward-5 units of Banshal and Kotwali in Dhaka city.
Responding to the statements of foreigners over Bangladesh's democracy, Quader said democracy is not flawless in any country of the world and it is not flawless even in the countries of those who talk about Bangladesh's democracy.
US President Donald Trump raised allegation over vote-stealing in the US presidential polls while the incidents of gun fire take place in the United States in each month, which is a blow to democracy.
The AL general secretary said before criticising others, one should look at the picture of his or her own country.
The government of Prime minister Sheikh Hasina is working to make the country's democracy error-free and as per the constitutional procedures, the Election Commission (EC) was constituted to institutionalise democracy and electoral system, he said.
After failing in movement, he said, the BNP is lodging allegations with foreigners and hiring lobbyists. "The BNP has turned into a fake and isolated party. Sheikh Hasina will assume power again if a fair election is held," Quader said.
Claiming that there is no public involvement in BNP's movement, he said their movement is limited within the BNP men only and that is why the party resorts to conspiring and anarchy.
The AL general secretary said no leader could carry out so much development activities in the country like Sheikh Hasina.
Jubo League Chairman Sheikh Fazle Shams Parash, General Secretary Mainul Hossain Khan Nikhil and Dhaka South City Jubo League Acting General Secretary Rezaul Karim Reza, among others, spoke at the conference with Dhaka South City Jubo League Acting President Main Uddin Rana in the chair.