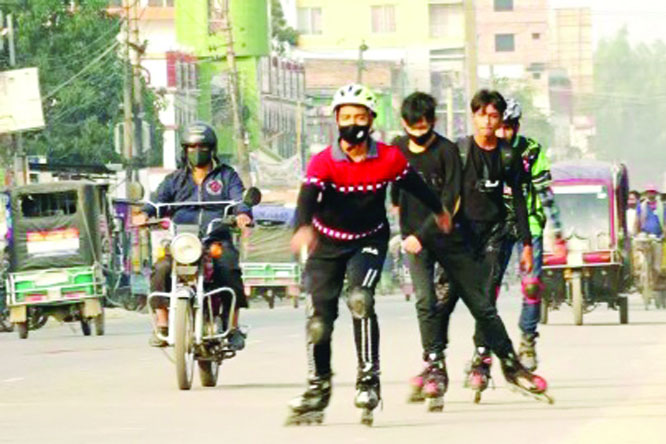 Md. Abdul kuddush, Kushtia
Roller skating is becoming popular day by day in Kushtia. Children and teenagers with wheels on their feet are often seen running in the crowd of vehicles on the busy road. However, due to lack of space, skating training and practice is being disrupted. There are several groups for roller skating training and practice in Kushtia. Due to this, the number of children and teenagers is increasing day by day. The children and teenagers here dream of becoming good skaters, participating in the national level and even in the Olympics. One of them, teenage skater Sohail Rana, said, "I am also coming to skate after seeing my friend. At first I did not have the courage. Now I think - if I get a good chance I can go to the Olympics. Shishu Labib was watching skating practice at Kushtia DC Park. "I will play too," he said. I told my mother to buy skates. Kushtia is in dire need of a suitable place for skating. Sometimes the training takes place in the central Eidgah, sometimes in the DC Park. Skaters can also be seen on the road at risk. Kushtia Skating Club coach. Abdullah said, "There have been more than two hundred skaters in the club. Their presence in Corona was reduced.
Has started to grow again. Being forced to practice on the road a lot of the time. I never support it. This can lead to accidents. There will be no problem if it is in a designated ground or skating rink or stadium. `Club chairman Farhad Khan Rabbi also agreed with the coach`s demand. "I dream that the boys in my club will play in the Olympics," he said. They will stay away from mobile phones or drug addiction as they are busy skating. Kushtia MP Mahbub-ul-Alam Hanif has also proposed to the state minister for sports to build a skating rink. A few days ago, State Minister for Sports Zahid Ahsan Russell came to the inauguration ceremony of the construction work of Sheikh Kamal Stadium in Kushtia and said that they have taken the initiative to build a rink and stadium.