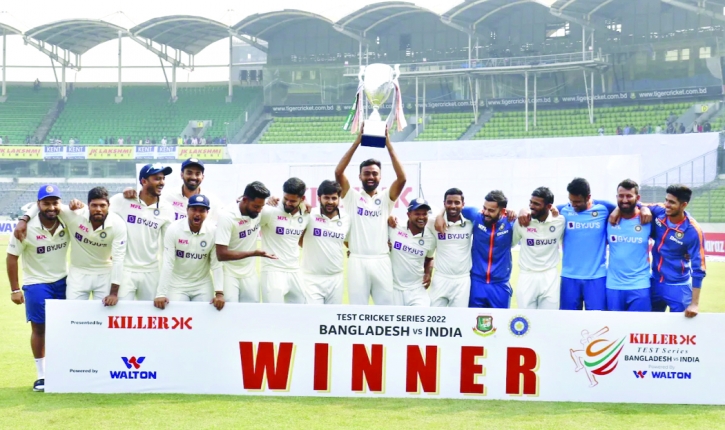 On a tricky Mirpur pitch, Shreyas Iyer and Ravichandran Ashwin showed exemplary performances and steered India to a thrilling three-wicket win in Dhaka against Bangladesh.
After a dramatic loss of seven wickets for a total of 74 runs in pursuit of 145, India needed 71 runs to achieve victory, with only three wickets left and Bangladesh's spinners continuing to dominate on the home pitch. Miraculously, Iyer and Ashwin joined forces and managed to secure the 71-run partnership needed to defy all odds, ultimately crushing Bangladesh's seemingly inescapable victory. Over 5,000 passionate fans filled the Mirpur galleries, a sight rarely seen at Test matches and even more uncommon in the opening session of a Test in Bangladesh. All eyes were firmly fixed on the pitch, hoping for a victory to cheer about.
In the last 13 meetings between Bangladesh and India in Tests, the former had never come close to even a victory, thus evoking fans' excitement from far and wide to witness the game unfold from the first ball of day four.
They were fortunate to have Shakib Al Hasan and Mehidy Hasan Miraz take three quick wickets in the morning, further pushing India into trouble. Along the process, Mehidy completed his ninth five-wicket haul in Test.
At that point, when India had slumped to 74-7, victory seemed almost certain for Bangladesh due to the Mirpur pitch that was proving difficult to negotiate with its spin-friendly conditions.
But from there on, Iyer and Ashwin stole the show and guided India home.
Bangladesh made every effort to break the partnership between Iyer and Ashwin. They fashioned some good opportunities - the brightest of which rose when Ashwin was at the crease. Mehidy hurled a regular delivery around middle and leg, which Ashwin attempted to defend but managed only an edge. Unfortunately, Mominul Haque at the short fine leg failed to latch onto the chance, which eventually left Bangladesh short of victory.
Shakib strategically brought in an extra pace bowler for two overs when he noticed that spin bowling was not yielding the desired results, with the intention to disrupt the formidable partnership between Iyer and Ashwin.
Khaled Ahmed, the pacer, gave away 12 runs in those two overs, though it failed to make a difference in the game. However, those 12 balls could have provided some respite to the batters, who were feeling the pressure against the spinners.
Eventually, Iyer and Ashwin remained unbeaten for 29 and 42 runs, respectively, completing a win that will be remembered for a long to them.
Bangladesh went to bat first in the match and put up 227 runs, led by Mominul Haque's 84. India responded with a stronger performance, as Pant and Iyer both scored well to build a first-innings lead of 87 runs, bringing the team's total score to 314.
In their second innings of the match, Bangladesh put a good effort, with Zakir Hasan scoring a fifty to help push their tally to 231. India thus had a target of 145 for a win.