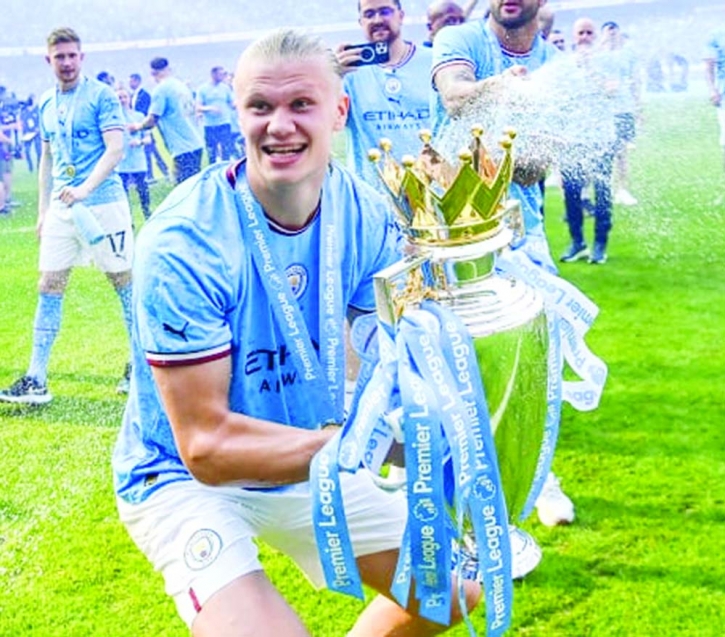 Erling Haaland has been named the Premier League Player of the Year in his debut season for Manchester City.
The Norwegian has scored a remarkable 36 league goals in just 35 appearances – breaking a 29-year record for the most strikes across a Premier League campaign.
He has also contributed eight assists as well as helping City to a third consecutive Premier League title and the finals of the FA Cup and Champions League in June.
Haaland's 44 total goal involvements is the joint highest of all-time, equalling a record set by former Arsenal forward Thierry Henry in the 2002/03 season.
A City player has now won the trophy for four consecutive seasons with team-mate Kevin De Bruyne collecting it in 2019/20 and 2021/22 and Ruben Dias in 2020/21. Vincent Kompany also won the award in 2011/12.
De Bruyne was nominated again for this year's award after reprising his place at the top of the assists table with 16 in total so far. Arsenal duo Bukayo Saka and Martin Odegaard, Manchester United's Marcus Rashford, Tottenham striker Harry Kane and Newcastle defender Kieran Trippier were also on the shortlist.
Haaland has already claimed the 2023 Football Writers' Association Footballer of the Year award, earning more than 80% of the vote in the process.
He has also been nominated for the PFA Player of the Season award. A tearful Borussia Dortmund manager Edin Terzic said there would be "no happy ending" after his side stumbled with the title in sight, giving Bayern Munich an 11th straight Bundesliga crown.
Dortmund held a two-point lead atop the table before the final round but were held 2-2 at home by Mainz, allowing Bayern, who won 2-1 at Cologne, to jump up to first place, winning the title on goal difference. Terzic was seen in front of the club's famous yellow wall after the final whistle in tears, as the fans chanted the Dortmund-born coach's name. "You can see how hard and how tough this sport that we fell in love with can be," Terzic said, adding "it hurts extremely - there will be no happy ending for us this year." Dortmund won the unlikely support of Bayern captain Thomas Mueller, who took time out from celebrating his side's 11th straight title - and his 12th Bundesliga championship - to express sympathy.
"I'm not apologizing for becoming champions and we're happy about that, but when you think of the others, then I feel a bit sorry. "Even if they don't want or need to hear it. I'm not trying to present myself as big hearted or anything, but it's tough."
Captain Mats Hummels, the only member of the squad to have tasted championship glory with Dortmund said "the next days will be brutal.
"It's going to be difficult to digest. It will take more than a few days." Dortmund midfielder Emre Can said simply: "We gave everything as a team but it wasn't to be."
"We wanted it but in the end we didn't make it."
Dortmund led the table four times this season, but each time dropped points and allowed Bayern to return to the summit.