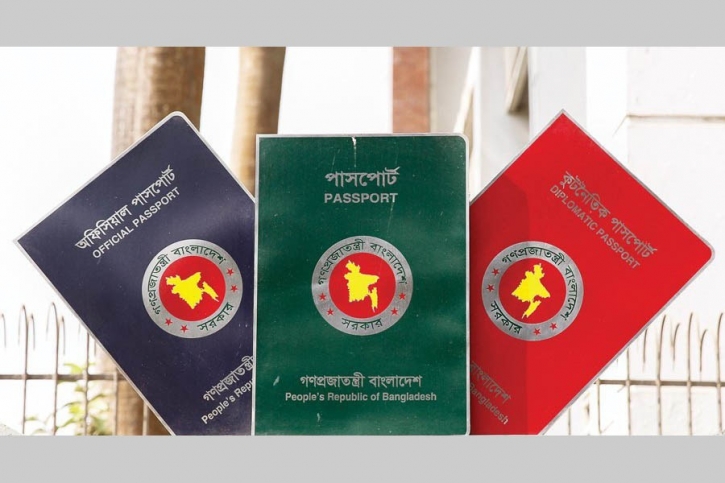 Expatriate Bangladeshis living in Europe are facing massive problems in terms of obtaining e-passports due to the informational mismatch of national identity cards and birth registration certificates with MRP (Machine –Readable Passport). This problem is becoming more widespread in obtaining e-passports as the information errors in national identity cards and birth registration certificates cannot be corrected directly online from Europe
On the one hand, As much as the e-passport combined with world-class, modern and digital facilities has given relief to expatriate Bangladeshis.
On the other hand, the Renewal of passport, conversion from MRP passport to e-passport, or the sufferings of receiving a newly made passport within the stipulated time has dimmed a lot of the relief of expatriates.
While there are many reasons behind this suffering in terms of getting the E-passport, some of the reasons are worth mentioning, MRP passport information is mismatched with the information of National Identity Card, change of permanent address, and not to get the police clearance from Bangladesh within stipulated time.
In this context, applying for an e-passport and obtaining the passport on time is a matter of time-consuming and uncertainty until the information on the national identity card is corrected.
In this context Dr. Sabera Parvin, an Expatriate Bangladeshi in Portugal said, There was an informational error in my MRP passport along with my NID card and birth registration certificate which I could not get corrected online from Europe. That's why I couldn't apply for E-Passport from here. Now I have to go to Bangladesh and apply for this e-passport after correcting the informational mistakes. This is a very expensive and time-consuming matter.
On the other hand, it has been very difficult for those who have already got permission to reside in Europe through MRP passports made with incorrect information to amend their national identity cards in line with this MRP passport. Because it is not possible to correct the national identity card also without proof of authentic evidence and correct information online from Europe.
However, while the national identity card is mandatory for citizens over 20 years of age in applying for e-passports in the country, Bangladeshis living abroad can apply for an e-passport at the Bangladesh embassy through the English version of the online birth registration certificate besides the national identity card.
Ms. Kazi Tuhin Rasul , Counsellor of Bangladesh Embassy in Berlin,Germany said, Even if you can apply for an e-passport with a Birth registration certificate (BRC) at the Bangladesh embassy, in this case, the information of the MRP passport and birth registration certificate must match exactly. Application for e-passport cannot be made if there is any informational mistake. Because there is no possibility of correcting any informational mistakes of NID card and Birth Registration Certificate even through the Embassy in Bangladesh.
Already, out of 81 Bangladeshi missions, a total of 30 missions, including 7 in Europe, have launched this e-passport service, in the future, the e-passport service will be launched in 44 more missions and the work is progressing rapidly.
Therefore, if the proper solution to technical problems, information errors in national identity cards and birth registration certificates can be corrected online in Europe,
Applying in an easy way and getting the e-passport in time will be more assured. And the expatriate Bangladeshis wish the all-out cooperation to the Bangladesh government for its proper solution.
When contacted by telephone from Portugal with the Director - General of Bangladesh Immigration and Passport- Major General Md. Nurul Anwar said, that the DIP has already launched a service for 24 hours for the immediate and fair resolution of any technical problems related to passports in the Bangladesh Missions located abroad.
He added that, depending on the type of technical problem related to the passport, the necessary measures will be taken to solve it immediately as well.
Bangladesh is the first country in South Asia and the 119th in the world to introduce the e-passport – a travel document with a small integrated circuit, or "chip", embedded in the cover or pages.