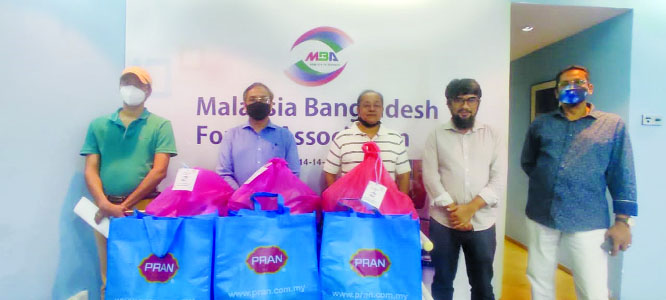 Ahmadul Kabir, Malaysia
Malaysia Bangladesh Forum Association (MBFA) has provided food assistance to unemployed Bangladeshi expatriates. After the outbreak of corona and long lockdown, many expatriates became unemployed. Many do not have enough food at home to survive. The Malaysia Bangladesh Forum Association decided to set up a fund to alleviate the food needs of the helpless expatriates. The activities started after the formation of the committee with Nisar Quader as the convener and Syed Mawla as the joint convener. In a very short period of time, capable expatriates and various local organizations came forward to extend their hand of cooperation in that activity.
The food distribution process began with the official inauguration of Mohammad Abul Bashar. Despite the health risks, the joint efforts of the members of the association have made it possible for thousands of expatriates to buy daily necessities and deliver them home.
"We are facing a global crisis," said Professor Basar, president of the association on Saturday. The outbreak of coronavirus has caused economic recession all over the world. As a result of lockdown in the country, middle and low income people are getting lost. The food crisis is evident in many homes. Those who are day laborers are starving. We are trying to deliver these food items to the helpless expatriates. He expressed his gratitude to all those who have shown solidarity with our initiative and helped with the money and thanked all the unnamed organizations and individuals including Bangladeshi organization Pran, Cosmo Family Mart, Maitri Food, Star Kebab.
Nisar Quader, convener of the food aid committee, said, "We will continue these activities." In the meantime, the food items have been delivered to our expatriates in various places including Ampang, Kelang Valley, Shah Alam, Subangjaya, Sunway, Kepong, Cheras, Brickfield, Jalan Duta, Hantua, Puchang, Sardang, Kazang, Kota Damansara.
Joint Convener Syed Mawla said Malaysia Bangladesh Forum has always tried to be by the side of expatriates. When the prevalence of corona increased in Malaysia in 2020, the Association of Bangladeshi Doctors formed an online health service to raise health awareness among expatriates, and a large number of expatriates have benefited there.