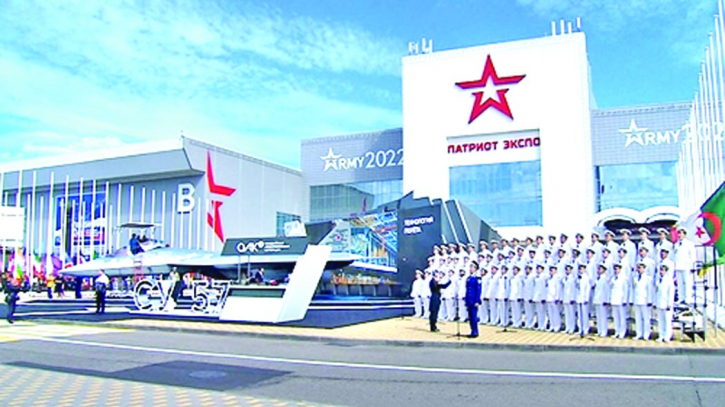 Dmitry Shugaev, the head of Russia's Federal Service for Military-Technical Cooperation (FSMTC) has said, a working group on military-technical cooperation was created in 2018 and started its operations.
"It is tasked with sharing the additional needs of our Bangladeshi friends in military products produced in Russia," he told The South Asian Times. Shugaev said the military-technical cooperation between Russia and Bangladesh, which has a good history, is developing successfully. "We are interested in developing cooperation and are ready to consider any requests from our partners," he added.
The FSMTC chief also said that they are interested in their friends having every opportunity to protect their state.
He was speaking on the sidelines of the Army 2022, an international defence show that was held in Moscow from August 15-21. A group of defence journalists from different countries including this correspondent visited the defence show.
Reply to a question, Shugaev said that the military-technical cooperation between Russia and India has no analogs in the world.
"Today, many countries are planning to set up their own military production through the transfer of technology and the acquisition of competencies," he said.
He answered another question and said the Russian countermeasures against sanctions consist of a tailored approach to each of our customers, offering attractive conditions when concluding contracts, adjusting the payment forms and providing more flexible schemes, abandoning the dollar and switching to other currencies, including national ones.
The Russian side is ready for cooperation and has already submitted proposals on the joint development and production of modern types of military equipment, including a future main battle tank, infantry fighting vehicle, fifth-generation aircraft, diesel-electric submarines and other types of modern weapons.
Replied to a question- Is there any future defense cooperation that will be done with Turkey?, the boss of the FSMTC said, "The military-technical cooperation with Turkey is developing in line with the agreements reached between the presidents of the two countries. We plan to continue working with our Turkish partners on a transparent and mutually beneficial basis.
Are there negotiations on the supply of military equipment to Iran? In reply to another question, Dmitry Shugaev said, "The military-technical cooperation between Russia and Iran has a long history. The Islamic Republic is armed with a large number of Soviet and Russian military equipment. And in the future, we intend to continue our work aimed at strengthening the combat potential of the Iranian Armed Forces."