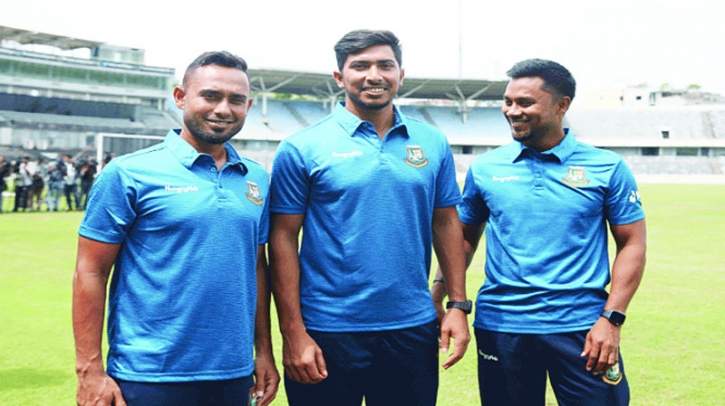 Mohammad Mithun was named skipper for Bangladesh A's tour of the West Indies, with the team set to depart today. While Mithun will be captain in both the four-day matches and three one-day games during the tour, former national team stars such as Soumya Sarkar and Sabbir Rahman were included in the squad for the three one-day matches.
29-year-old Soumya is the youngest of the three, all of whom made their ODI debuts for Bangladesh in 2014. While the trio have plenty of experience on the international scene and should have been part of the core of the national side by this point, they are now included in an A team which is meant for much less experienced players.
While this scenario might be another instance that could lead to fingers pointing at the national team's stagnant pipeline, their struggles coming to grips with the challenges faced in international cricket reflects the struggles of the national team as whole.
While the likes of Shadman Islam, Mahmudul Hasan Joy and Saif Hassan have much to look forward to on the tour of the West Indies in terms of experience, what will the three aforementioned stars gain from such a tour?
"Soumya did well in the two four-day games and scored runs which is a very good thing for us. When these players do well, it's good for the national side because the gaps won't be there. There was a time when there were lots of gaps and we had to take players from the U-19 side. If players like Soumya do well, those gaps won't remain," national selector Abdur Razzak said in a press conference yesterday when asked about Soumya's inclusion for the Windies tour.
Cricket operations chairman Jalal Yunus said that they were placing more importance on the A team.
"I spoke to the players today and told them that we have to bring the A team to a position of importance. The players here are those who have just recently been excluded [from the national side] or are on their way there. Before this, A team tours were not very important. But from now on, they will be very important. The national team's backups will have to come from the A team," Jalal said yesterday.
Soumya's call ups to the national team have been perplexing at times given the context. Even without having much preparation for red-ball format, he was included for the tour of New Zealand in 2019. Despite hitting a career-best 149 at Hamilton, his career never took off in the format. He was also haphazardly named as Shakib Al Hasan's replacement during West Indies' tour of Bangladesh in 2021. Such call-ups never gave Soumya the chance he needed.
A loss of form saw Mithun become a national team discard. His and Soumya's return to the national team's periphery may well be due to their form in last season's BCL, when both were among the top run-getters. But given that Soumya's abilities are more in line with the shorter formats, the question that will be regurgitated is whether players get chances in formats where they should be tried.
Sabbir's case is more curious. He came up with a few big knocks in the recent Dhaka Premier League and, during his early years, he showed all the promise of becoming a regular in the national side. Although he fell away due to disciplinary issues, his ability to play pacers with ease is still something that the national team is looking for.
Whether their own shortcomings or the BCB's, the national team's struggles in finding players for the various formats is sharply reflected by Soumya, Mithun and Sabbir's struggles with their own careers in terms of finding their feet in international cricket.