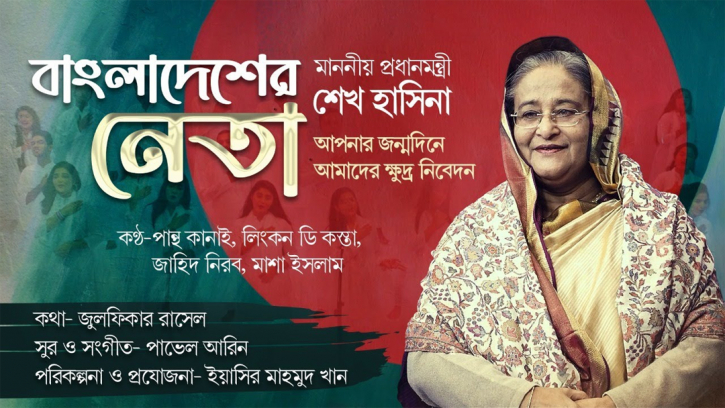 A special music video, titled "Bangladesher Neta (Leader of Bangladesh)" has been released on YouTube, marking Prime Minister Sheikh Hasina's 75th birthday.
Dedicated to her extraordinary leadership, the music video was released under ZuTi Music banner on Tuesday evening, according to a press release.
Sung by Pantha Kanai, Lincoln D'Costa, Jahid Nirob and Masha Islam, the song was written by national film award-winning lyricist Zulfiqer Russell and composed by Pavel Areen.
Regarding the song, Zulfiqer Russell said: "This is our small offering on the birthday of honourable Prime Minister Sheikh Hasina. We have tried to give a melodious gift to her on her birthday."
"This song is created from our own feelings and love towards our honourable Prime Minister Sheikh Hasina. We have tried our best to give her a meaningful gift on her birthday. If the audience likes the song, that will be our big achievement," said the music director Pavel Areen.
The longest-serving prime minister of Bangladesh, Sheikh Hasina, turned 75 on Wednesday.